10 Tips for a Successful Trekking in Nepal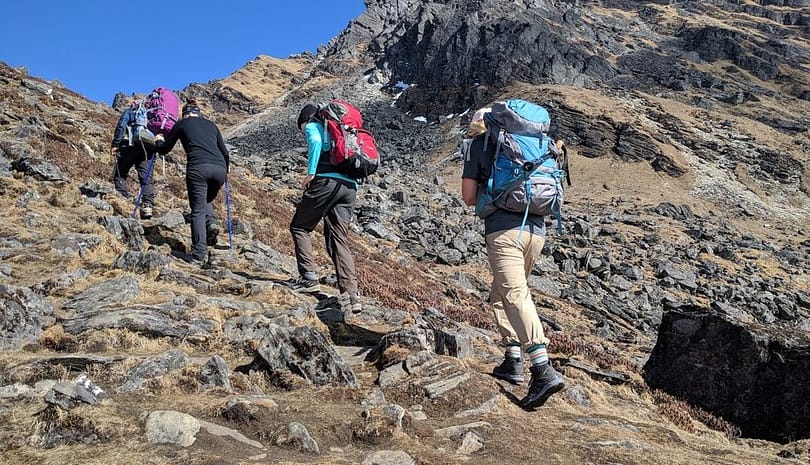 Nepal has some of the world's highest peaks, including Mount Everest, Annapurna, Dhaulagiri, Manaslu and Kanchenjunga. Whilst trekking in Nepal the routes take you through breathtaking landscapes with panoramic views of snow-capped mountains, rugged valleys, glaciers, and serene alpine lakes. Nepal is also a culturally rich country with diverse ethnic groups. Along the trekking routes, you'll come across charming villages, monasteries and temples where you can interact with local people, learn about their traditions and witness colourful festivals. Are you planning to trek in Nepal to experience the incredible mountains and the diverse culture?  If yes, here are some trekking preparation tips for trekking in Nepal.
Tips for a successful trekking in Nepal
Choose the right trek
The most popular trek options are Everest Base Camp, Langtang, Mardi Himal, Annapurna Base Camp and Annapurna Circuit in Nepal. Although these are all popular treks, one needs to understand that all these trek areas go above 3000m (9842feet) above sea level and so you will need to assess your physical capabilities, endurance and experience before opting for the right trek. The following factors should be taken into account with your research in deciding the perfect trek holiday in Nepal-
Work out the duration of your stay in Nepal, the number of days on the trek, the region and season of the year.
Your fitness level will also play a crucial role in choosing the right trek as you need to take into account your physical capabilities and your past hiking experience.
Remember Nepal is not just about the longer rugged treks as even small hikes out of the small towns and cities lead to mountain villages with rich traditions, culture and heritage topped with amazing views of the Himalaya as you can take into account our trekking tips for beginners which is part of our story on cultural journeys.
Obtain necessary permits, TIMS Cards, and National Park Fees
Anyone travelling and wanting to go trekking in Nepal needs to acquire permits to be allowed entrance to the trek routes.
These are-
1- An entry permit into the relevant National Park or Conservation Area (For Everest, Annapurna, Langtang, Kanchanjunga, Gorkha, Rasuwa)
2- Trekking Information Management System (TIMS) card (For most trekking areas) or a Municipality Fee (For Everest Region)
3- A restricted-area trekking permit (Lower & Upper Dolpo, Upper Mustang, Tsum Valley, Nar Phu, Humla, Mugu, Bajhang, Darchula, Dolakha, Makalu, Manaslu)
Most National Park Entrance fee is NRs3000 plus VAT (USD 30) and can be procured at the respective National Park gates. TIMS card (Trekkers Information Management System) is NRs 2000 (USD 17) and can be procured from the Nepal Tourism Board office in Kathmandu or Pokhara.
As per Revised TIMS Provision effective from March 31, 2023, specific Protected Areas of Nepal need every trekker to be accompanied by licensed trekking guide and carry a trekking agency issued TIMS Card. Trek areas where Licenced Trek Guide is mandatory are in the link https://ntb.gov.np/plan-your-trip/before-you-come/tims-card
Therefore, the first thing an aspiring trekker must do is find out if the route they are interested to trek requires trekking guide and TIMS Card. If yes, please get in touch with a Government registered trekking agency to arrange for the trekking guide and TIMS Card.
Pack Smart
Packing smartly for trekking in Nepal requires careful consideration of the weather conditions, terrain, duration of your trek and the difficulty of the trek and above all the season. A comprehensive list of essential items to pack would be – Sturdy and comfortable Daypack (30-35 L) with cover, Well broken trekking boots, trainers or sandals to walk around in the camp or cities, appropriate clothing comprising of Outer Layers, Base Layers, Mid Layers, Inner garments and toiletries. You can get Sleeping bags on rent if you don't have a personal one. You should not forget to bring a small first aid kit, sunscreen, moisturizers, lip balm, trekking poles, headlamp, power-bank and water bottles or a camelback. The bottom-line is, everything depends upon how you are going to go about your Nepal trek. If you are planning to hire a Guide and a porter you can have a more comprehensive packing list as you will only be carrying the bare essentials, water, camera and money in a 30 litre Daypack!
However, even if you're paying for a porter whilst trekking in Nepal, you should still think about packing only what is adequate. Just because you don't have to carry it, doesn't mean that porters should be carrying unnecessary luxury items.
Stay hydrated and don't underestimate altitude sickness
Remember Nepal is about mountains and most trekking areas are in the mid Himalayan range around 3000m and higher. It is only natural that when you are above 3000m you are likely to get out of breath especially if you have never been in altitude before. One of the Golden Rules of Altitude is "Stay Clear, Pee Clear" which means that you need to be well hydrated all the time. It is important to listen to your body and be aware of the change in altitude and take it easy especially when you get to 4000m. It will help to take an extra day for acclimatization where you go high and sleep low.
One needs to acclimatize well whilst trekking in high altitude and be aware of the signs and symptoms of Acute Mountain sickness especially if you are travelling on your own.
Keep in mind, everyone's response to altitude varies, and it's crucial to listen to your body and take necessary precautions. If you're unsure about any symptoms or your ability to continue ascending, consult your trekking guide or a healthcare professional with experience in altitude-related illnesses. Prioritizing safety and acclimatization will enhance your overall experience whilst trekking in Nepal.
Hire a guide or porter
While hiring a guide and porter is not mandatory for all treks in Nepal, it is highly recommended, particularly for longer and more challenging treks or if it is your first time in Nepal and you have limited trekking experience. Having a guide and a porter can enhance your safety, comfort, and overall enjoyment of the trek, allowing you to immerse yourself in the natural beauty and cultural richness of Nepal. A guide who can communicate effectively in the local language (such as Nepali) and English can facilitate interactions with locals, aid in negotiating accommodations or transportation, and help you navigate any bureaucratic processes or permits required. A professional guide will be familiar with the trails, weather conditions, potential risks and rescue procedures. Trekking in Nepal can be physically and mentally demanding, especially at higher altitudes. A guide can provide encouragement, moral support, and motivation during challenging sections of the trek.
They can also help pace your trek appropriately, considering your fitness level and acclimatization needs. If you have heavy backpacks or prefer to trek without carrying a heavy load, hiring a porter can be immensely beneficial. Porters are experienced in carrying loads in the mountains and can handle the weight while you focus on enjoying the trek. Hiring local guides and porters contributes to the local economy and supports the livelihood of the local communities as it fosters sustainable tourism and helps create employment opportunities for the local population. Nepal has a rich cultural heritage, and having a guide can offer valuable insights into the local customs, traditions, and history about the places you visit which adds on to the experience of travelling in Nepal.
Respect the local culture
The beauty of travel is to get "Worldly-wise" and this only happens when you get to immerse and respect the local culture. Being mindful while travelling fosters positive interactions and enhances your travel experiences during your visit. Nepali culture is diverse and deeply rooted in traditions. Some of the tips that can help you show respect especially while you are trekking in Nepal are as follows-
Traditionally, the Nepali people generally dress conservatively, so it's important to respect their customs especially while visiting temples, religious sites or rural areas it is respectful to avoid wearing revealing or skimpy clothing. Before entering temples, monasteries or private homes, it's customary to remove your shoes. The traditional way to greet locals in Nepal is by saying "Namaste" with palms pressed together in a prayer-like gesture. It's a sign of respect and acknowledgment of the other person's presence.
The other important word to learn in Nepal is "Dhanyabad" which means "Thank you."
Always ask for permission before taking someone's photograph, as not everyone may feel comfortable being photographed especially older people. This is also particularly important when capturing images of religious figures, rituals or ceremonies.
It is advisable to avoid public displays of affection, including kissing and hugging in public as these acts are considered inappropriate or offensive.
Familiarizing oneself with the local customs and taking cue from the locals will demonstrate your respect for the local culture will help build a rapport with the locals. This will definitely enhance your journey and lead to a positive and enriching experience in Nepal.
Be prepared for weather changes
Trekking in Nepal is an incredible experience, but it's important to be prepared for weather changes, as the weather can be unpredictable, especially in the higher altitude regions. If you are trekking in the popular trekking regions of Everest and the Annapurna, you are likely to be more protected as some major villages have shops selling trekking gear and most teahouses will have duvets and blankets for the guests. However, if you are planning for an adventure to a more remote area ones needs to be prepared for adverse conditions as the weather in the Himalaya is determined by the ever changing weather patterns in the Indian Ocean. Preparedness is important to having a safe trek in Nepal and so having the right gear is important-
Dressing in layers is key in adapting to changing weather conditions. Keep a moisture-wicking base layer to keep you dry, add a insulating mid-layer for warmth, and top it off with a waterproof and windproof outer layer to protect you from rain, snow, and wind.
Carry a rain jacket and rain pants to stay dry during unexpected showers.
Pack warm clothing such as a down jacket, fleece sweater, thermal pants, hat, gloves and warm socks.
A good pair of sturdy, waterproof trekking boots with ankle support will keep your feet dry, warm and protected from injury.
Protect your head from the sun, wind, and cold by wearing a wide-brimmed hat or a cap. Additionally, carry a buff or a beanie, good Sunglasses and Sunscreen.
Keep an eye on weather forecasts before and during your trek as most popular trek areas now have internet access. Weather conditions in the mountains change rapidly, so always be prepared for unexpected changes. It's also a good idea to consult with local guides or trekking agencies who have up-to-date knowledge of the weather patterns in the region you plan to trek.
Staying safe
Safety should always be number one priority while trekking in Nepal. You will have to a comprehensive travel insurance that covers trekking activities at high altitude including emergency medical evacuation, helicopter rescue and coverage for any potential risks or injuries. If you are trekking on your own, be aware of your own limitations, listen to your body and take informed decisions and above all, stay hydrated. Before embarking on your Himalayan adventure, make sure to inform your family and the Embassy of your route and area of trekking and give regular updates. Plan your trek itinerary properly allowing enough days for acclimatization. In higher altitude stay vigilant as regards to the changing weather, stick to well marked trails, follow local advice and enjoy the breathtaking landscapes and cultural experiences that Nepal has to offer. Most important of all if you are on medication do not forget to pack your prescribed medicines.
However, if you are planning to hire a Guide, porter or book through a trekking agency all safety aspects and the back-up options should be discussed prior to the trek. Trekking with professional guide and porter will provide you with valuable assistance, ensure your safety and offer guidance in case of emergencies.
Embrace the basics while Trekking in Nepal
Trekking in Nepal requires an "Open Mind" to enjoy the adventurous landscape and diverse culture of Nepal. It is important to be mentally and physically prepared to embrace certain challenges and "rough it out" at times. Here are some tips to help you be ready for a more rugged experience in Nepal:
Accommodations may be basic with limited facilities in remote areas and during treks. There will be simple guesthouses, teahouses or even camping options, be prepared for outdoor or shared bathroom facilities, which may consist of squat toilets or basic pit toilets. Simple meals consisting of rice, lentils, vegetables and local specialties like momo dumplings will be served regularly as food options will be limited especially in more remote treks. Be prepared to be off the grid whilst trekking as there will be intermittent internet connection and phone connection in the mountainous region of Nepal.
The ruggedness and simplicity of the journey can often be the most rewarding part of your adventure in Nepal. Embrace the natural beauty, connect with nature, and immerse yourself in the cultural richness of this remarkable country.
Ensure that you have enough money for the trek
When trekking in Nepal, it's essential to carry enough cash to cover your expenses throughout the trek especially if you are trekking on your own. Consider the following tips to ensure you have enough cash for your trek-
Before starting your trek, research the estimated cost of permits, accommodation, transportation, meals and other necessary expenses along your chosen route. Consider the duration of your trek, the remoteness of the area and any additional costs such as guides or porters.
While some teahouses and guesthouses may accept card payments in popular trekking regions like the Everest region (Namche), cash is generally the preferred and more reliable form of payment. Theft is very rare in the mountains but you should still be careful about your belongings and a good tip is to spread out your cash in different sections or pockets of your bag so it's not all in one place. Use a money belt or a hidden travel wallet for added security.
In popular trekking regions like the Annapurna or Everest areas, there are limited ATMs available in some of the larger towns or trailhead points. It's advisable to withdraw cash in advance and carry it with you, as the ATM's will not have enough cash in the high trekking season.
If you are planning to use your debit or credit cards in Nepal, notify your bank in advance about your travel plans. This prevents any unexpected card blocks due to suspicious activity. Inquire about international transaction fees and inform them of your intended withdrawal or card usage while in Nepal. It's wise to carry an emergency reserve of cash in case of unexpected situations, such as medical emergencies, equipment damage or extension of your trek. Having extra cash provides peace of mind and ensures you can handle unforeseen circumstances.
Carry enough cash in local currency to cover your estimated expenses, including unforeseen circumstances or emergencies. If you are planning to trek in more remote or less developed areas, access to ATMs or card payment facilities may be limited or nonexistent, ensure you have enough cash (in smaller denominations as it will be hard to get change) to cover your entire trek plus contingencies that may arise.
However, if you are booked with a trekking agent and have support staff and other associated services taken care of you should have a clear idea on the extra money that you would be required to carry with you.