Arguably one of the best treks in Nepal and pioneered by our selves in the early 1980's. From the foothills of the Annapurna range you trek through terraced hillsides before heading into the wilderness through forest of oak and rhododendron forest that lead to open alpine slopes where yaks and sheep graze on the lush pastures. The highpoint of the journey is Kopra Ridge where the panoramic mountain views are nothing less than spectacular. There are close up views of two of the world's eight thousand metre peaks, Annapurna (8091m) and Dhaulagiri (8167m).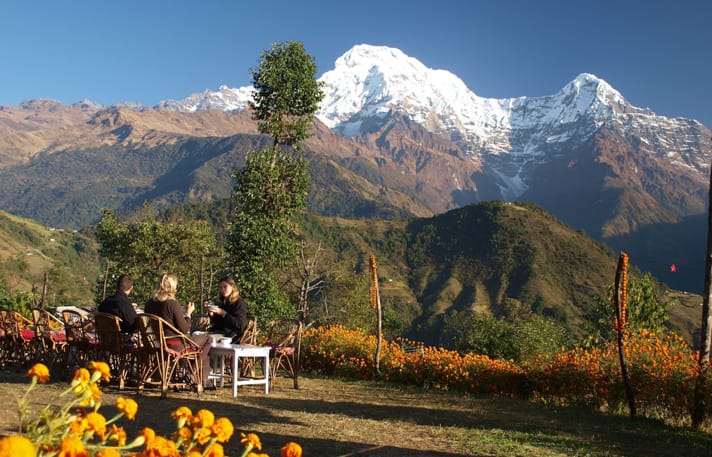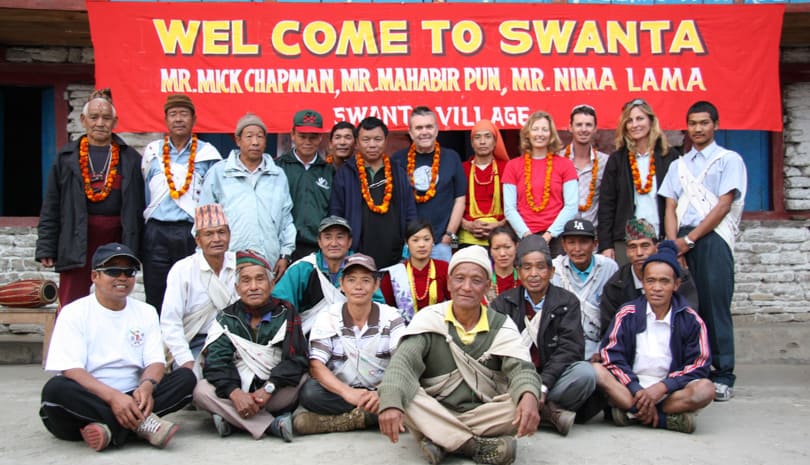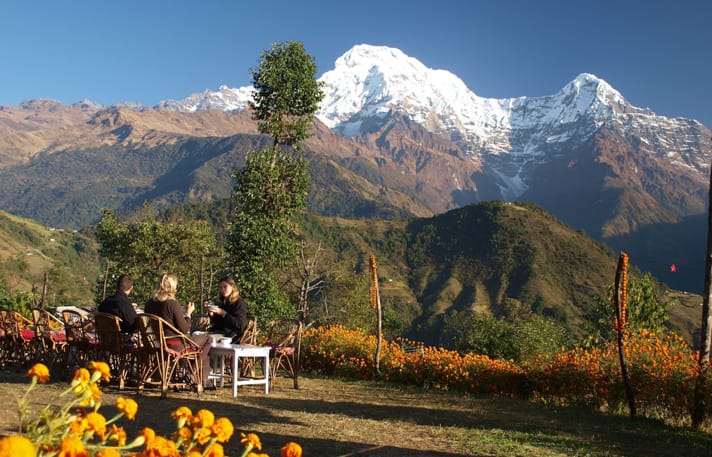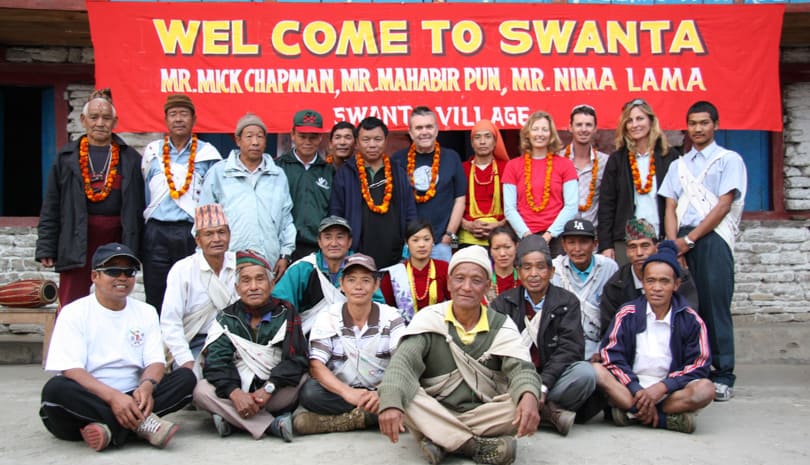 Itinerary
Day 1 - KATHMANDU (1360m)
Kathmandu, the incredibly diverse capital of Nepal is a fascinating blend of centuries old Hindu and Buddhist shrines, traditional architecture and a city embracing the 21 century. Upon arrival, your leader will transfer you to your hotel from the airport. Your hotel is in the heart of the city close to Thamel, a popular choice with tourists, with colourful handicraft stalls, trekking gear shops and excellent restaurants. In the evening, after your trek briefing, you have the option of going out for a group dinner with your trek leader.
Day 2 - POKHARA (850m)
Flight: 25 minutes
After breakfast you are transferred to the airport for your flight to Pokhara. If the weather is clear there are fine views of the Himalayan range to the north. Upon arrival at the airport there will be a transfer waiting for you to take you to your hotel which is located close to the Phewa Lake.
Pokhara is one of the largest city of Nepal in terms of area, and the second largest city in terms of population. Due to its proximity to the Annapurna mountain range, the city is a base for trekkers undertaking the Annapurna Circuit through the Annapurna Conservation Area region of the Annapurna ranges in the Himalayas.
Meals included: Breakfast
Day 3 - UPPER GHANDRUK (1990m)
Driving: 3 hours/Trekking: 2 hours
A leisurely start this morning for the drive to Naya Phul and then by 4WD through the terraced hillside, above the Modi Khola Valley, with super views of the fishtail peak, Machhapuchhare, and Annapurna South. At the village of Kimche (1630m) you begin your trek and follow a well-defined path that contours its way through fields of wheat and millet to the village of Ghandruk.  Your lodge is located above the main village in a quiet location, where you enjoy fine mountain views, in particular Annapurna South (7237m), Machhapuchhare (6993m) and Gangapurna (7455m).
Meals included: Breakfast, Lunch and Dinner
Day 4 - TADAPANI (2650m)
Trekking: 4 hours
It's an easier walk today as you leave the terraced hillsides and the village of Ghandruk behind to enter oak and rhododendron forest. This is a particularly beautiful part of the trek, as your trail crosses over streams and passes small waterfalls under the canopy of the forest. There are no villages on the trail, but there are a few teahouses at Baisi Kharkha providing welcome drinks and a place to rest. There are fine views of Annapurna II (7937m), Annapurna III (7555m), Annapurna IV (7525m), Annapurna South (7237m), Machhapuchhare (6993m) and Lamjung Himal (6931m) along the way and you reach your overnight halt at Tadapani in time for lunch. The village is perfectly situated to catch some wonderful sunset and sunrise views.
Meals included: Breakfast, Lunch and Dinner
Day 5 - BAYELI KHARKA (3450m)
Trekking:  6 hours
Today you leave the main trail that leads to Ghorepani and instead follow a rarely used path, walking initially through dense rhododendron forest that leads to open ground used by local villagers for grazing pastures. The climb is gradual and you soon emerge above the tree line to enjoy superb views of the Annapurna range. Lunch is taken at a small lodge in the herder's settlement known as Dobatto and in the afternoon, you continue to climb gradually though open countryside to reach a small pass, where the trail descends through shrub rhododendron to an open clearing known as Bayeli Kharka and the first of the community owned lodges you'll be staying in. From this peaceful and tranquil location here are great views of the Dhaulagiri Himal.
Meals included: Breakfast, Lunch and Dinner
Day 6 - UPPER CHISTIBUNG (2950m)
Trekking: 4 hours
In the morning you descend through open ground and forest to reach the pastures of Lower Chistibung, where you stop for lunch. In the afternoon continue walking through forest, ascending gradually and passing through several buffalo grazing pastures to reach a clearing and a summertime herders settlement, known as Upper Chistibung. Here you again stay in a community owned lodge. It faces south and whilst there are no major mountain views the rolling hills of central Nepal can be seen stretching almost to the Indian border from this elevated location.
Meals included: Breakfast, Lunch and Dinner
Day 7 - KHOPRA RIDGE (3600m)
Trekking:  3 hours
To reach Kopra you have a steady climb that takes you above the tree line and onto open ridges with spectacular mountain views. This area is noted for its wildlife and you should keep your eyes open for Himalayan Tahr (mountain goat) and Danfe pheasant. You reach the community lodge at Kopra Ridge in time for lunch, where there are fantastic views from this prominent position high above the Kali Ghandaki Valley. The extraordinary panorama includes Annapurna South, towering directly in front of the lodge; Fang and Nilgiri are also prominent to the north; in the west, across the Kali Gandakhi Valley (the world's deepest gorge), stands the Dhaulagiri Himal which dominates the entire skyline.
Meals included: Breakfast, Lunch and Dinner
Day 8 - SWANTA (2220m)
Trekking: 6 hours
In the morning you should take an opportunity to photograph the sunrise views before descending off the hillside to retrace your route back to Chistibung. Continue to descend through forest, crossing a small river, before passing through farmland and on to the village of Swanta, where you stay in the village lodge, located close to the local primary school. Our local operator has been sponsoring the salaries of two of the school teachers for three years and has also helped in the funding of the new school extension. Swanta is a small village of only 150 people and the primary school was threatened with closure before these initiatives were implemented.
Meals included: Breakfast, Lunch and Dinner
Day 9 - ULLERI (1960m)
Trekking:  6 hours
From Swanta you descend through village fields to a small river and take a look at the local water mill. You then cross the suspension bridge and head up to the village of Chittre where you rejoin the main trail before another ascent to Ghorepani, where there are great views of the Dhaulagiri massif. After a well-earned rest it is all downhill for the rest of the day. The walk passes through beautiful rhododendron forest and you stop for lunch at the village of Nangethanti. In the afternoon you continue trekking through the forest to arrive at Ulleri in the mid-afternoon, with plenty of time to explore this picturesque village.
Meals included: Breakfast, Lunch and Dinner
Day 10 - POKHARA (850m)
Trekking: 2 hours Driving: 2.5 hours
You make an early start to get the most out of the day. From the lodge at Ulleri there is a steep descent of over 500 metres on a stone staircase to the suspension bridge that crosses the Bhurungdi Khola. From here it is only a few minutes to Tirkedunga. After a welcome drink and a chance to give the knees a well-earned rest you walk to the nearby road head where you board hired jeeps at Hille for the drive back to Nayapul. At Nayapul, you will board a private vehicle that will take you back to Pokhara. You will arrive at your lakeside hotel in the afternoon. In the evening there is the option to dine out at one of the many lakeside restaurants.
Meals included: Breakfast and Lunch
Day 11 - KATHMANDU (1360m)
Flight: 25 minutes
After breakfast you are transferred to Pokhara airport for the short flight to Kathmandu. The rest of the day is free for shopping or further sightseeing. Enjoy a final evening out tonight.
Meals included: Breakfast
Day 12 - DEPART KATHMANDU (1360m)
Your trip ends today after breakfast. Your leader will be on hand to advise and assist with your onward travel arrangements.
Meals Included: Breakfast
Dates and Price
| Dates | Price | Single Sup | Status | Book/Enquire |
| --- | --- | --- | --- | --- |
| - | On Request | Available | Any Date | Book Now |
If the trip dates don't match your available dates we can run a private departure for just your friends or family. Just fill up this form and we can discuss the options
Price Includes
2 nights accommodation in a 5 Star Hotel in Kathmandu on BB
2 nights accommodation in Pokhara on BB
7 nights lodge accommodation on Twin Share
All Meals on the Trek
International Airport Arrival & Departure Transfers
Domestic Airport Transfers
All Domestic Transfers in a private Vehicle as per Itinerary
Experienced English speaking local leader
Porter clothing, boots and insurance
Medical Kit
Trekking and national park permits
Return Flights Pokhara to Kathmandu
Down Sleeping Bag,Fleece Inner Liner, Down Jacket & Duffel Bag for use on trek
Pre departure Trek Dossier
Trekking map
Price Excludes
International flights
Nepal visa
Travel insurance
Lunches and dinners in Kathmandu & Pokhara where not indicated
Items of a personal nature, drinks, snacks, laundry,etc.
Tipping
Information
I wanted to go on a trek in Nepal with my son and daughter, both in their 20's. Rather than book a standard tour through one of the larger companies a friend suggested I contact Nima, who had recently organised a trek for him and some friends. I contacted Nima and briefed him on some thoughts and he came back with a two week trek in the Annapurna region. I couldn't have been happier. The trip ranks right up there as one of my most enjoyable holiday experiences. The organisation was excellent, the equipment provided was perfect, the cost was very reasonable and the scenery on the route chosen was simply breathtaking. Staying mostly in comfortable 'tea houses' our guide and porters took great care of us and were also great fun to be with. I plan to return to Nepal for another trek and wouldn't think about using anyone but Nima to put it all together. He's excellent to deal with and can cater for all types of trekking experiences.
We did an expedition with ChoLa Adventures in October to go through Annapurna. It was impeccably organised from start to finish, with an action-packed itinerary and amazing staff who became like family throughout the expedition. The inside knowledge of all areas was invaluable, all the equipment provided was top quality. We had incredible views of all the mountains, a good mixture of challenging and enjoying trails, stopping at the most charming tea-houses for breaks and accommodation. Couldn't recommend them enough.