Mardi Himal trek visits one of the quieter areas in the Annapurna region and has only recently become a lodge based trek. Mardi Himal trekking experience offers all the diversity that makes this a classic Himalayan adventure. You start the walk through lowland terraced hillsides ascending through pretty villages, beautiful forest and onto stunning high alpine passes to experience superb mountain views including the peaks of the Annapurna Sanctuary and beyond. Mardi Himal trek is one of the finest short treks in Nepal.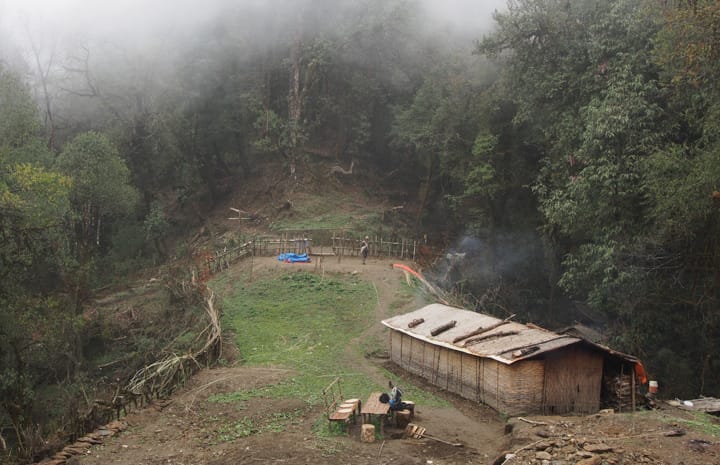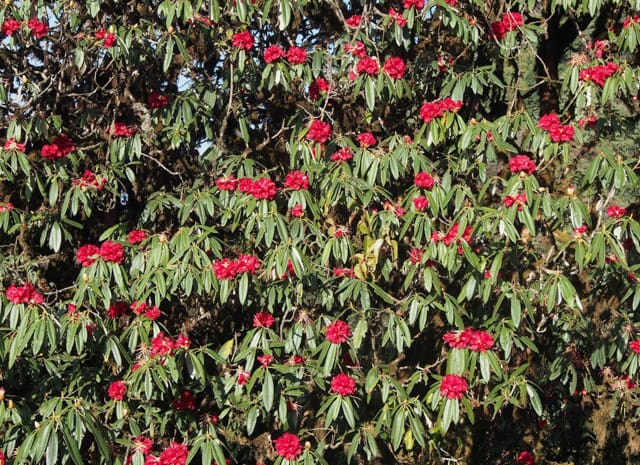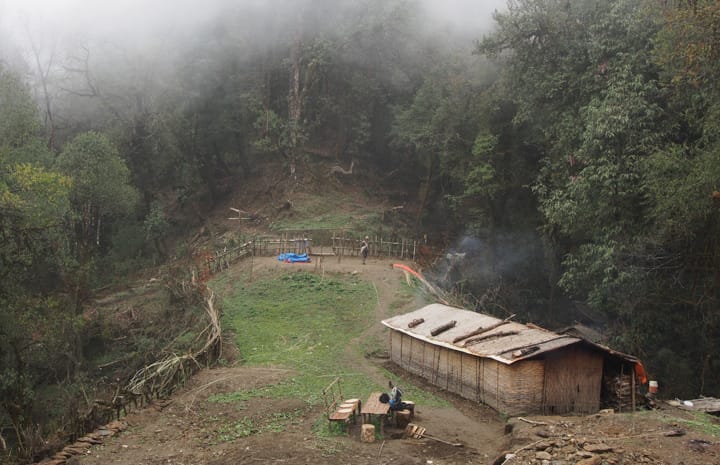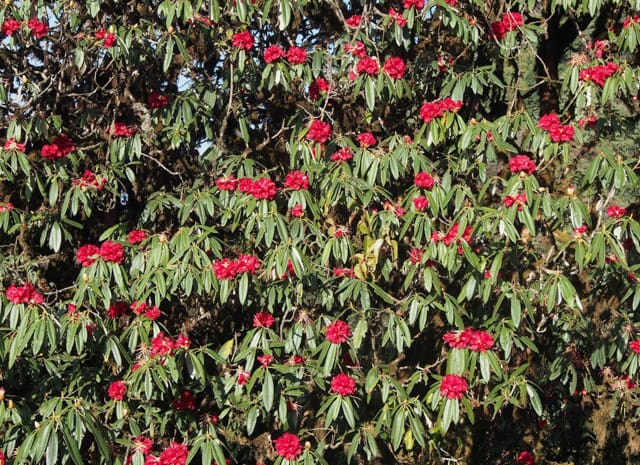 Itinerary
Day 1 - KATHMANDU (1360m)
Kathmandu, the incredibly diverse capital of Nepal is a fascinating blend of centuries old Hindu and Buddhist shrines, traditional architecture and a city embracing the 21 century. Upon arrival, your leader will transfer you to your hotel from the airport. Your hotel is in the heart of the city close to Thamel, a popular choice with tourists, with colourful handicraft stalls, trekking gear shops and excellent restaurants. In the evening, after your trek briefing, you have the option of going out for a group dinner with your trek leader.
Day 2 - POKHARA (860m)
Flight: 25 minutes
After breakfast you are transferred to the airport for your flight to Pokhara. If the weather is clear there are fine views of the Himalayan range to the north. Upon arrival at the airport there will be a transfer waiting for you to take you to your hotel which is located close to the Phewa Lake.
Pokhara is one of the largest city of Nepal in terms of area, and the second largest city in terms of population. Due to its proximity to the Annapurna mountain range, the city is a base for trekkers undertaking the Annapurna Circuit through the Annapurna Conservation Area region of the Annapurna ranges in the Himalayas.
Meals included: Breakfast
Day 3 - POTHANA (1890m)
Driving: 1 hour. Trekking: 2 hours
A leisurely start this morning for the drive to the trek start. From Lakeside the road follows the valley before ascending to the ridge at Naudanda where there is a fine panorama of the Annapurna range and views of the lake at Pokhara. At Kade you meet your trekking crew have lunch before setting off ascending through forest for a short afternoons walk and onto your lodge at Pothana. Here you will have fine sunset and sunrise views of the 'fish tail' peak Machhapuchhre and the Annapurna range.
Meals included: Breakfast, Lunch and Dinner
Day 4 - SANU DANDA (2660m)
Trekking: 5 hours
With a backdrop of the Himalaya you begin the trekking day following a beautiful forest trail that ascends gradually to the tea houses and lodges Pitham Deorali. Here the trail splits with the main trail heading down to Landruk and on towards Annapurna Sanctuary. You take the minor trail continuing on the ridgeline through forest of oak, rhododendron, magnolia and hemlock. Lunch is taken at Dudh Kharka (2380m) before continuing the gradual climb passing the lodges at Kokar to ascend to Sanu Danda and your lodge located on a ridge amongst rhododendron forest. There are great views of Machhapuchhre and the valley below.
Meals included: Breakfast, Lunch and Dinner
Day 5 - BADAL DANDA (3270m)
Trekking: 5 hours
The first part of the morning's walk follows a small trail through dense forest of rhododendron, oak, magnolia and hemlock. It is only when you reach the lodges known as Low Camp (3010m) that great views come into view. You take lunch here and in the afternoon ascend above the tree line, at times steeply, to join the Mardi Himal ridge line where you can look down to the villages far below and enjoy once again fine mountain views. There is a homely atmosphere at the lodge and you enjoy the warm hospitality of your local host.
Meals included: Breakfast, Lunch and Dinner
Day 6 - HIGH CAMP (3540m)
Trekking: 2 hours
A short trek today so you can amble along and enjoy the beautiful scenery and mountain views. The walking continues, ascending gradually, on the main grassy ridge line with a few clusters of shrub Rhodendron by the trailside. You arrive at High Camp late in the morning. There are a few lodges here all with superb views of Annapurna South, Hiunchuli and Machhapuchhre (Fishtail). The plan for the next two days is to have the flexibility to ascend to the Lower (3955m) and Higher View Points (4190m) for sunset and/or sunrise views.
Meals included: Breakfast, Lunch and Dinner
Day 7 - KOKAR (2360m)
Trekking: 6 hours
After a pre dawn cup of tea and biscuits we head out, with head torches on, to follow the steep trail passing sheep and goat herder's huts that are occupied during the monsoon months. It takes less than two hours to reach Lower View Point where more hot tea and biscuits can be bought from the 'tea stall' operated one of the lodge owners. There are sensational views from looking across and into Annapurna Sanctuary with Annapurna South and Machhapuchhre towering above in the foreground. If you are feeling well and the views remain clear it is a further hour and a half to the High View Point at 4,190m. Here you get a better view into the Annapurna Sanctuary and as with the Lower View Point the views of both the mountains and the rolling middle hills and Pokhara give you one of the best views in Nepal and without the crowds associated with other popular treks. We then descend back to high camp and retarce our steps to Kokar.
Meals included: Breakfast, Lunch and Dinner
 Day 8 - LWANG (1570m)
Trekking: 6 hours
It is all down hill today. After a leisurely breakfast you hit the trail following the open ridge and then through forest to Dudh Kharka where you stop to give the knees a break and enjoy lunch. In the afternoon you again descend through forest to reach the terraced hillsides of the Gurung village of Lwang. There are no lodges here but there is a network of homestay accommodation where you stay with a local family enjoying fresh local food and sharing a wonderful cultural experience.
Meals included: Breakfast, Lunch and Dinner
Day 9 - POKHARA (860m)
Trekking: 1 hour Driving: 2 hours
There will be time to visit the village again before descending to the small tea small factory and gardens below the village. From here you enter forest and descend on a stone steps back to the road head where your private vehicle will be waiting to transfer you back to Pokhara. You will arrive in time for lunch and the afternoon can be spent relaxing by the lakeside or sightseeing. In the evening you can join your leader for a night on the town and eat at one of Lakesides great restaurants.
Meals included: Breakfast
Day 10 - KATHMANDU (1360m)
Flight: 25 minutes
After breakfast you are transferred to Pokhara airport for the short flight to Kathmandu. The rest of the day is free for shopping or further sightseeing. Enjoy a final evening out tonight.
Meals included: Breakfast
Day 11 - KATHMANDU (1360m)
Your trip ends today after breakfast. Your leader will be on hand to advise and assist with your onward travel arrangements. A departure transfer to the airport is included.
Meals included: Breakfast
Dates and Price
| Dates | Price | Single Sup | Status | Book/Enquire |
| --- | --- | --- | --- | --- |
| - | On Request | Available | Any Date | Book Now |
If the trip dates don't match your available dates we can run a private departure for just your friends or family. Just fill up this form and we can discuss the options
Price Includes
2 nights accommodation in a 5 Star Hotel in Kathmandu on BB
2 nights accommodation in Pokhara on BB basis
6 nights lodge accommodation with All Meals on trek Twin Share
International Airport Arrival & Departure Transfers
Domestic Airport Transfers
All Domestic Transfers in a private Vehicle as per Itinerary
Kathmanu to Pokhara Return Flights
Experienced English speaking local leader
Porter clothing, boots and insurance
Transfer to Kade in a Private Vehicle
Transfer from Lwang to Pokhara in a Private Vehicle
Down Sleeping Bag, Fleece Inner Liner, Down Jacket & Duffel Bag for use on trek
Pre departure Trek Dossier
Trek Map
Price Excludes
International flights
Nepal visa
Travel insurance
Lunches and dinners in Kathmandu and Pokhara where not indicated
Items of a personal nature, drinks, snacks, laundry,etc.
Tipping
Information
We travelled to Nepal in September this year, and I can highly recommend Nima and the team at ChoLa Adventures. Nima prepared a detailed itinerary, accommodating our requests, and provided excellent guidance in preparing for our trip. We were met at the airport and all the transfers and travel arrangements went smoothly. We did the Mardi Himal trek, and the experience and knowledge of our guide Temba and porter Sumba was invaluable. All the equipment provided was top quality. We had incredible views, a good mixture of challenging and enjoyable trails, stopping at the some charming tea-houses for breaks and accommodation. Couldn't recommend them more highly! We were very well looked after, and thoroughly enjoyed the trek as well as our stay in Kathmandu and Pokhora. As well as organising the trek, Nima provided suggestions regarding some items we wanted to purchase and sight seeing. We are already planning a return trip, and will be using ChoLa Adventures again.