Mera Peak is the highest of the Trekking Peaks in Nepal. Although a challenging adventure it is a suited for those looking to undertake their first Himalayan expedition. Technically the ascent is straightforward and two higher camps will be placed above Base Camp to give you the best chance of success. The approach trek is quite magnificent and there are views of five eight thousand metre peaks – Everest, Kanchenjunga, Makalu, Lhotse and Cho Oyu. The perfect trip for those with the spirit of adventure.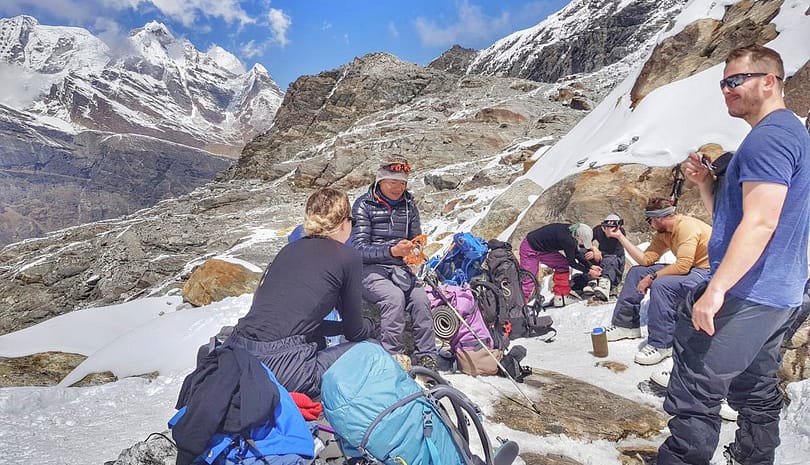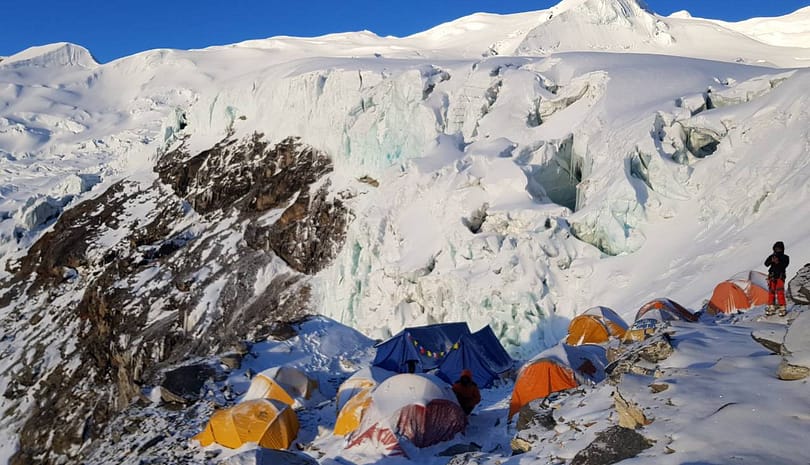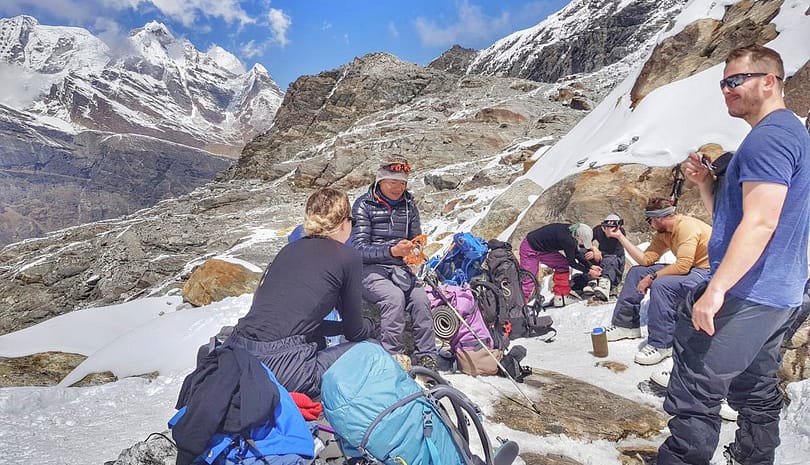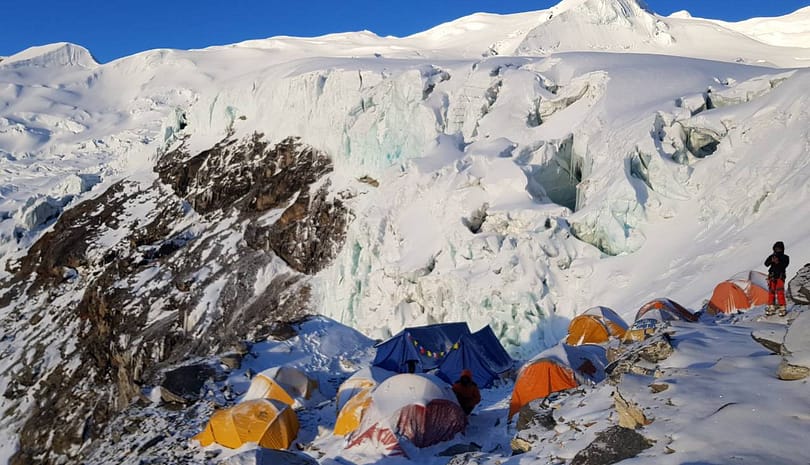 Itinerary
DAY 1 - KATHMANDU (1360m)
Kathmandu, the incredibly diverse capital of Nepal is a fascinating blend of centuries old Hindu and Buddhist shrines, traditional architecture and a city embracing the 21 century. Upon arrival, your leader will transfer you to your hotel from the airport. Your hotel is in the heart of the city close to Thamel, a popular choice with tourists, with colourful handicraft stalls, trekking gear shops and excellent restaurants. In the evening, after your trek briefing, you have the option of going out for a group dinner with your trek leader.
Day 2 - KATHMANDU (1360m)
Today is a free day to relax after your flight and prepare for the trip ahead whilst we prepare your permits. For those looking for sightseeing suggestions your leader will be on hand to help out and organise any side trips you may wish to undertake. In the late afternoon you will be issued with your trek pack and departure information for the next morning.
Meals included: Breakfast
DAY 3 - PUIYAN (2820m)
Flight: 45 mins. Trekking: 3 hours
The early morning flight from Kathmandu to Lukla (2830m) is spectacular with sensational views of the Himalayan range. The Lukla airstrip was built by Sir Edmund Hillary and the Sherpas in the mid-sixties and is the gateway to all treks in the Everest region. After sorting equipment you begin your adventure descending past the airstrip to Surkhe, above the Dudh Kosi River, from where you ascend and then traverse high above the valley to the village of Puiyan and your first night out on the trail
Meals Included: Breakfast, Lunch and Dinner
DAY 4 - PANGUM (2810m)
Trekking: 7 hours
From Puiyan the trail continues to contour through forest high above the Dudh Kosi River to cross the Khari La (2900m). Here you have fine views of the mountains to the west and north and enjoy a welcome rest and hot drink from the local tea shop. From here you leave the main trail, that leads eventually to Kathmandu, to climb steadily through terraced fields to Karte where you take lunch. In the afternoon the ascent continues through forest for just over three hours to reach Pangum and our lodge. The entrance to this Sherpa village is marked by mani walls and prayer flags and there are fine panoramic views of Numbur (6959m), Khatang Ri (6853m), Karyolung (6681m), Kwangde (6187m) and Teng KangPoche (6500m).
Meals Included: Breakfast, Lunch and Dinner
DAY 5 - RAMAILO DANDA (2890m)
Trekking: 6 hours
From Pangum you gain the ridge line of the Zattara Danda, from where you climb steadily, with views of the jagged peaks that flank the Hinku Valley on our right and views back towards Trakshindo La, Numbur and the Dudh Kosi Valley on our left. The first view of Mera Peak comes into view as you begin the long descent to the Hinku River valley. You stop for a break at Sibuje and the walks towards the Chettra Khola valley to a pasture. From here the trail undulates through pine forests to a small open pasture of Ningsow where we stop for lunch. after lunch there is a steady climb to Ramailo Danad which is our camp for the night.
Meals Included: Breakfast, Lunch and Dinner
Day 6 - THAKTOR (3600m)
Trekking: 7 hours
From Ramailo Danda the trail undulates and descends through pine and oak forest to Tamba Khola. From here the trail climbs up through the forests and undulates to reach the small settlement of Chettra Khola where we stop for lunch. After lunch the trail climbs up through pine forests and undulates crossing numerous small streams. The trail continues to climb and undulate above the Hinku river to finally recah our camp at Thaktor.
Meals Included: Breakfast, Lunch and Dinner
Day 7 - KOTE (3610m) 
Trekking: 3.5 hours
After breakfast you descend for some time through rhododendron and mixed fir forest down towards the Hinku Khola. You reach a lone abandoned hut at Shasamba and the trail climbs up and then descends down to river. From here the trail opens up to the Hinku valley and you follow the river upstream. The trails gradullay climbs through rhododendron forests and then descends to the settlement of Kote on the banks of the Hinku River.
Meals Included: Breakfast, Lunch and Dinner
Day 8 - THANGNAK (4390m)  
Trekking: 6 hours
From Kote you follow the riverbed for a while, before climbing on to grassy meadows when the valley widens. The walking is easier than previous days, only made tiring by the altitude. In the late morning you reach the yak herders' settlement of Gondishung for lunch from where there are superb views of the steep south face of Mera. In the afternoon you reach a small cave monastery, set under a large rock, which contains three statues said to have been found on the eastern side of Mera La. As they were being carried down the valley the party camped in this small cave under a rock. The next morning the statues had become too heavy to lift and they remain here to this day. This is a particularly auspicious place and our Sherpa crew will perform a small religious ceremony and make offerings to the gods to ensure we journey safely into the mountains. From here it's an easy walk on moraines up the valley to the settlement of Thangnak where we spend thenext two days. Thanknak is overlooked by the peak of Charpati Himal (6769m), to the north, Mera to the east and Kusum Kanguru to the west.
Meals Included: Breakfast, Lunch and Dinner
Day 9 - THANGNAK (4390m)
Trekking: optional acclimatization walk
Good acclimatisation is important to achieve summit success so you have a second night at Thangnak. Depending on how you feel, you may take the opportunity of a morning's acclimatization climb in the hills behind Thangnak for good views of Mera La and the trail ahead.
Meals Included: Breakfast, Lunch and Dinner
Day 10 - KHARE (5010m)
Trekking: 5 hours
Today is a short but exciting day. After crossing the stream you ascend the glacial moraines close to Sabai Tsho lake . Fine views of the valley below and the awesome faces of Charpati Himal and the outlying peaks of Mera dominate the view. The trail then levels out to cross sandy flats and then a short climb on a grassy moraine ridge leads to our base camp, opposite the north-west face of Mera at the settlement of Khare. The Mera La (5415m) and the way ahead are clearly visible from our lodge at Khare.
Meals Included: Breakfast, Lunch and Dinner
Day 11 - KHARE (5010m)
Acclimatization and Glacier Training
To give you the best chance of success on Mera the next few days are set aside for the climb with time allocated for extra acclimatization and possible poor weather. In the area around Base Camp there will be instruction in the use of crampons, ice axe and rope technique. Your leader will plan the day's activities depending on the weather and the needs of the group. This may include an acclimatization walk towards Mera La.
Meals Included: Breakfast, Lunch and Dinner
Day 12 - HIGH CAMP (5800m)
Trekking: 6 hours
The ascent towards Mera La begins with a steady climb out of Khare. There is a gradual traverse and you continue to climb steeply on a rocky ledge coming off the Mera La to eventually reach Advanced Base Camp just below the pass. It is about 45 minutes to the crampon point. After you put on your climbing boots and crampons, you will ascend the Mera La. The first section is a steep climb of about 10 minutes and then a traverse and then we have another steep climb and then a more gradual one to reach High Camp hidden behind a big rocky outcrop above the Majhong glacier.
Meals Included: Breakfast, Lunch and Dinner
Day 13 - MERA PEAK (6476m) - SUMMIT & KHARE
Trekking: up to 10 hours
It is necessary to leave around 3.00am so that the summit can be reached by mid-morning at the latest. Depending on snow conditions and group strength expect to take four to six hours to reach the summit. The view from the summit is utterly fantastic! Again, Everest, Lhotse, Makalu and Kanchenjunga and Cho Oyu dominate the close up panoramic view. The descent is easier, but you are likely to be tired after the long ascent and you must expect a long slog back to Base Camp. You stop at High Camp for a hot brew and snacks, after which you collect personal items and head on down to Khare.
Oxygen and a portable altitude chamber are taken to High Camp in case of emergency.
Meals Included: Breakfast, Lunch and Dinner
Day 14 - CONTINGENCY DAY
We have allocated a full day that serves as a contingency day in case of delays in summit bid due to inclement weather. The idea is to give you leeway to make a successful bid on the summit, this day can be used as a rest further down the mountain or in Lukla if everything goes according to plan.
Meals included: Breakfast, Lunch and Dinner
Day 15 - KOTE (3610m)
Trekking: 7 hours
After the climb you will appreciate the descent to lower altitudes. After a lie in and a late breakfast you leave Khare and head downhill to reach Tagnac for lunch late in the morning. In the afternoon you retrace your steps back to the lodge in Kote.
Meals Included: Breakfast, Lunch and Dinner
Day 16 - THULI KHARKA (4290m)
Trekking: 6 hours
You continue back along a familiar trail and then begin the steady ascent out of the valley through forest until reaching Dhaktowe, a huge rock by a small stream and lodge where you take lunch. In the afternoon you ascend through rhododendron forest to emerge on to open alpine ridges where, after a short climb to a pass, you descend to the remote lodge at Thuli Kharka.
Meals Included: Breakfast, Lunch and Dinner
Day 17 - LUKLA (2800M)
Trekking: 7 hours
In the morning you continue the ascent with a zigzag up the steep trail to Zatra Wala pass (4580m), the gateway to the Dudh Khosi Valley and the trail to Lukla. After a well-earned rest you contour on open slopes to the next pass, Zatra Og (4490m). Both passes are bedecked with prayer flags and stone cairns and have fine views of the Dudh Kosi Valley and the peaks of Karyolung, Kwangde, Numbur and Khatang. The descent from Zatra Og can be tricky and if the trail is covered in snow, fixed ropes will be required on the initial steep section. Today you will have a packed lunch, which will be taken after the descent of the pass. In the afternoon you continue to descend to Lukla and and our lodge close to the airstrip. In the evening you can enjoy a farewell dinner, followed by a few celebratory drinks with our Sherpa companions.
Meals Included: Breakfast, Lunch and Dinner
Day 18 - FLY LUKLA TO KATHMANDU (1360m)
Flight: 45 mins
You rise early in the morning to be ready for the arrival of your aircraft for the flight back to Kathmandu. On arrival in Kathmandu you will be met and transferred back to your hotel.
Meals Included: Breakfast
Day 19 - KATHMANDU (1360m)
We have allocated a full day in Kathmandu for you to relax and explore after your trek in the Everest region. This also serves as a contingency day in case of delays in Lukla due to inclement weather. There is an option to see the heritage city of Bhaktapur or Patan. Please ask your leader for sightseeing options and arrangements.
Meals Included: Breakfast
Day 20 - DEPART KATHMANDU (1360m) 
Your trip ends today after breakfast. Your leader will be on hand to advise and assist with your onward travel arrangements. A departure transfer to the airport is included.
Meals included: Breakfast
Dates and Price
| Dates | Price | Single Sup | Status | Book/Enquire |
| --- | --- | --- | --- | --- |
| - | On Request | Available | Any Date | Book Now |
If the trip dates don't match your available dates we can run a private departure for just your friends or family. Just fill up this form and we can discuss the options
Price Includes
4 nights accommodation in a 5 Star Hotel in Kathmandu on B&B basis Twin Share
15 nights lodge and tented accommodation on trek on Twin Share
All meals on the trek
High Altitude Down Sleeping Bag, Fleece Inner Liner, Down Jacket & Duffel Bag for use on trek
Climbing Boots, Ice Axes, Crampons, Harness, Ropes, Karabiners for the Mera Climb
Experienced Climbing Sherpa
Experienced English speaking local leader trained in Wilderness First Aid
Insured Climbing Sherpa
Insured and Fully equipped porters and support crew
International Airport Arrival & Departure Transfers
Domestic Airport Transfers
All Domestic Transfers in a private Vehicle as per Itinerary
Medical Kit, Portable Altitude Chamber and Medical Oxygen
Trekking and National Park Permits
Mera Peak Climbing Permit
Garbage Deposit
Kathmandu to Lukla Return Flights
Pre departure trek dossier
Trekking map
Price Excludes
International flights
Nepal visa
Travel and Climb Insurance
Lunches and Dinner in Kathmandu & Pokhara
Items of a personal nature, laundry
Tipping to the crew
Information
Mera Ski & Fun 2018
It was my first time to Nepal earlier this year and much of my wonderful, awe-inspiring experiences are due to Nima and his team from Chola Adventures. We began with a trek to Mera Peak from Lukla, with the intention to ski back down to Khare and trek back to Lukla from there. The team from Chola Adventures clearly communicated the itinerary with us prior to arriving in Nepal and consistently each evening of the trek, so we knew what we were in for the following day. Nima also emailed us a gear list that I followed almost exactly, and found it to be all that I needed for my upcoming trek. Next time I make my way to Nepal, I will definitely be choosing to go with Chola Adventures. Thank you so much to Nima, Mingma, Phewry, Temba, Srijana, Nishant and the impossibly strong and kind group of porters who made my first trip to Nepal such a special experience.