Why Travel With Cho La
With so many local companies to choose from it can be a daunting task finding a professional operator that delivers on quality and safety. Putting up a website is the easy bit. Having the experience and knowledge takes decades of operation in the field. Cho La has the experience.
Our prices offer great value for money and we will never compromise on services and safety by cutting days from trek itineraries just to offer lower prices. Having extra days to allow for proper acclimatization and possible flight delays due to bad weather can make the difference between having a trip of a lifetime or disappointment.
All our outline itineraries are flexible and can be adjusted to suit your needs and experience. There is a wide choice of local hotels,  extensions, meal options, trekking and climbing equipment that we can offer to ensure your holiday is delivered exactly as you require.
We look forward to hearing from you to discuss your plans and offer you the best Nepal experience possible.
Nima Lama
Managing Director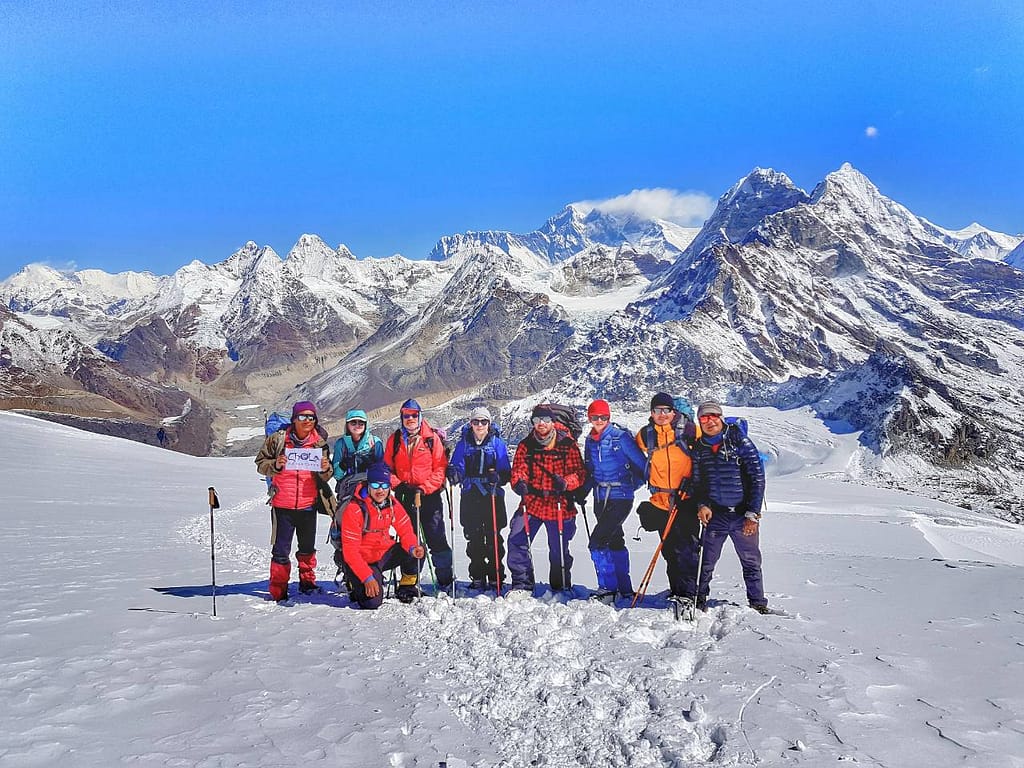 Our Expertise
Quality, value for money, and safety are hallmarks of our Himalayan program. Over the years our team have operated throughout Nepal taking clients on cultural journeys, classic lodge treks, exploratory camping adventures  and  major climbing expeditions. We have also been the ground operator for a number of film crews and have operated specialist wildlife trips, medical camps as well as running groups for schools and families. After 20 years in the field we know the Himalaya and in particular Nepal.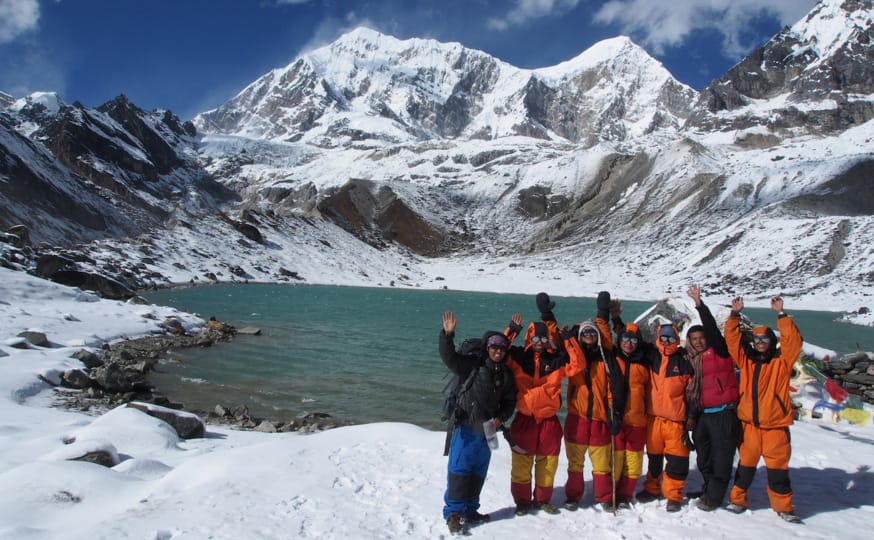 Our Safety Record
We have an enviable and unblemished safety record going back over 20 years. We don't take shortcuts with your safety. All our trips are meticulously planned taking into consideration that weather conditions may affect flights and trail conditions. That is why some of our treks are a few days longer than other operators. Why chance a trip of a lifetime to Everest Base Camp by not having buffer days. We take safety seriously, itineraries are planned for proper acclimatisation, our leaders are Wilderness First Aid trained, we use Portable Altitude Chambers and oxygen on treks to high altitude. SAT phones are taken on our remote treks. Staff and porters are provided with high quality equipment. Simply, we don't take chances.
Great Value
By dealing directly with ourselves in Nepal you are not compromising on the quality and the safety of your trek when comparing pricing with overseas based operators. Being based in Nepal our overheads are substantially lower. Our trips are fully inclusive. All meals on trek, airport transfers, a kitbag, sleeping bag and high altitude jacket are included in the price leaving you free to enjoy your holiday and know there are only personal expenses to take care of in your budget.
Our Team
Nima started his career in hotel management before switching to the tea industry in Kolkata. The quest for adventure led him back to Nepal where he has led treks and expeditions for the past 21 years. He started his adventure career as a trek leader with Peregrine Adventures Pty Ltd in 1997 and was the Nepal Manager for Peregrine from 2005 till 2015 managing their ground operations in Nepal. He was a member of the first Nepali expedition to climb Saribung Himal and has trekked and climbed throughout the Himalaya. Nima runs the Cho La operation in Kathmandu but regularly heads out into the field to lead trips and research new adventures. Nima is a qualified Wilderness First Aid responder having got his certification from NOLS.
Dorjee is our longest serving leader, having stared trekking in the 1970's. He has been on many climbing expeditions in Nepal and he has specialist knowledge of Nepal's more remote trekking routes, in particular Numbur, Rolwaling and the remote areas of the Annapurna. Dorjee is a highly regarded leader who has also trekked in Tibet, Bhutan and India. He lives in Phakding, on the main Everest trail where his family run a trekking lodge.
Hailing from Kathmandu, Rajesh or popularly klnown as Lama has recently joined our company. With many years of experience leading treks in Nepal Rajesh brings a high level of professionalism to our team. He is a certified trekking and climbing guide and has worked in outdoor education. An outdoor enthusiast, rock climber and mountain biker he has undertaken many adventures throughout Nepal. Rajesh is a certified Wilderness First Responder who has got his certification from NOLS and is also actively involved in training villagers in emergency First Aid in remote areas of Nepal.
Another long standing leader who has trekked in many areas in the Nepal and the India Himalayas. Yugal is a graduate from the North Bengal University and has a Masters in English. He is passionate about the mountains and the culture and has done his Wilderness First Aid Training from the Red Cross and is also a Wilderness First Responder from NOLS.
Tulay is one of our long standing leaders and has more than 20 years of experience in the industry. He started his trekking career with Peregrine and Geckos Adventures having worked as a Guide. He is a certified First Aid responder and has an avid interest in the flora,fauna and the culture of Nepal.Tulay has trekked all over Nepal but his personal favourite is the Annapurna Dhaulagiri trek where we have established Community Lodges.
Rajat has been leading treks in the Nepal Himalaya for more than 15 years. Rajat is a qualified and trained Wilderness First Aid Responder and is very experienced. He has great passion for the mountains and the culture and has trekked extensively from Kanchanjunga in the east to Dolpo in the mid west.  His vast knowledge, calm demeanor and ability to take spot decisions ensures that the trek and tours run smoothly and leaves a everlasting memory for the clients.
Hailing from Lukla in the Everest region Ngima is an experienced climber having summitted Everest three times and Annapurna 1 once. He started his career in the tourism industry by working as a guide and then leading treks for Peregrine and Geckos Adventures, Australia. Ngima has trekked all over Nepal and his knowledge about the mountains, flora and fauna makes him well liked by trekkers.
Mingma Sherpa hails from the village of Chulemu in the Solu District in the Everest region.  He is one of our most experienced climbers and prefers to join our more challenging treks and expeditions. His expeditions have taken him from Mera Peak to Everest and he has completed some of Nepal's hardest treks including the Makalu to Everest traverse over West Col and Sherpani Col and the high passes traverse from Ra Ra Lake to northern Dolpo.
Phuri Sherpa comes from the village of Chhulemu  in the Everest region. He is a licensed Trekking Guide and has a passion for the outdoors and leads our lodge based treks. He has trekked in the Annapurna region, the Everest region and the Langtang area in Nepal. Phuri is passionate about sharing his culture and the mountains of Nepal with his groups.
Hailing from the village of Hattiya in the Sankhuwasabha district in the eastern part of Nepal. Temba has spent most of his life in the mountains and has trekked from the Kanchanjunga region in the east to Dolpo in the west. He is great passion for the mountains is reflected by the feedback that he gets from people who have trekked with him. His favourite trek region is the Manaslu- Tsum valley area.
Dil comes from Okhaldungha in the Solu region in the foothills of Everest. He has been trekking for the past 10 years and has led treks in the Annpurnas and Everest region. A peoples person, Dil is very popular with his groups due to his affable character and humour. In the off season Dil is often found researching new trips in the more off the beaten tracks.
Mick first visited Nepal in 1974 and has trekked and climbed in all corners of the Himalaya every year since. He set up and ran the Peregrine Adventures (Australia) Nepal operation for 30 years before retiring so he could spend more time in the mountains. Mick manages our leader training program and is an active supporter the Annapurna Dhaulagiri Community Lodge Project and the Swanta Primary School. He has been on over 40 expeditions including those to Everest, Shishapangma, Putha Hiunchuli, Himlung, Saribung, Diran, Chamser Kangri .He is a member of the Alpine Club and when not in Nepal lives by the sea in Orkney. In 2019 he will be heading to Solu to researching a new route from Dudh Kund to Rolwaling.
Peter is our most experienced climber. He first became involved with our team as a leader on climbing trips to Mera Peak, Ramdung Himal, Chamseer Kangri, Saribung and Kedar Dome. He has been on two Everest Expeditions and also climbed Changabang, Nilgiri Himal, Putha Hiunchuli and other remote peaks in the Mustang and Damodar Himal. Peter regularly returns to Nepal and in October 2016 lead our Explorers Club trek across Dolpo to Jomsom. Peter's vast experience in the mountains has been an inspiration to our local leaders for whom he has acted as a mentor for over 20 years.
Our Operation
We only operate in Nepal. Most of our trips are tailor made journeys so whether you are looking for the 'Bucket List' trek to Everest Base Camp or for a specialized trek in a remote region we have the expertise to help you plan and operate your holiday.
Our promotion of local leadership, providing excellent working conditions for our trekking staff and porters and a very close relationship with local lodge owners and villagers have been a key factor in our continuing success. We have a high guide to client ratio ensuring you can pace yourself comfortably on the trek. We have regular teams of porters choosing to work with Cho La as our employment conditions and facilities surpass most other companies.
Our Leaders, Sherpa Guides and Porters
We are proud of our leaders, guides and trekking support staff. They are the best. Our senior leaders are NOLS certified Wilderness First Responders (WFR) and attend first aid and mountain skills training courses annually. Our assistant Sherpa guides have many years experience in the field. Our porters are the backbone of our treks. They are equipped with proper clothing, boots and trekking equipment, are fully insured, and are given medical assistance and helicopter evacuation if required. We treat our clients and staff equally. On treks which venture beyond local habitation we provide our porters with all their meals, tented accommodation, sleeping bags and insulated mats in addition to their personal clothing.
Cultural Adventures
Not everyone wants to undertake a multi day trek when they travel in Nepal. Our Cultural Adventures visit Kathmandu, Pokhara, Chitwan and enjoy Home Stay experiences in rural villages. These trips are adventurous and do involve day walks while exploring the cities or rural villages. The main objective of our Cultural Adventures is to give you an immersive and experiential journey with the best quality and comfortable, heritage properties and transport facilities available.
Lodge Based Trekking
Our lodge based treks are tailored to give you the best value for money and allowing flexibility regarding inclusions. Our core program is built around centrally located good hotels in Kathmandu and Pokhara, transport by tourist coaches and the best airlines. On trek our highly experienced teams are on hand to deliver a great trekking experience. You stay in locally owned lodges, offering twin-share rooms with comfortable beds and cosy dining rooms. Most lodges have shower facilities. Maximum group size is 8
On our lodge based treks all meals are included with the trekkers given the liberty to select meals from the lodge menu's. That way you can eat what you want.
To save you considerable expense and to ensure you are properly equipped for your trek. We provide you with a  Trek Pack for the duration of your trip.This includes a kitbag, Down sleeping bag with polartec inner sheet and a quality down high-altitude jacket.
Exploratory Camping Trekking
We use the Shangri La Hotel, Kathmandu for our Exploratory Treks and Expeditions, for over 15 years and is a firm favourite with our trekkers. We use high quality camping equipment to ensure your comfort and safety. We provide Mountain Hardware Trango tents, thick insulated sleeping mats, dining tents, tables and chairs (with back support) and a toilet tents.
We carry a specialised medical kit, medical oxygen, Pulse Oximeters and Portable Altitude Chambers as back up for these high altitude remote adventures. In the unlikely event of an emergency in the wilderness, a speedy helicopter evacuation can be organized as we also carry satellite phones.
Our camping treks enjoy excellent food prepared by our trekking cooks. Our menu's are varied and we even make our own yogurt. Nepal produces excellent coffee and we use local blends on our camping treks.
Mountaineering -Trekking Peaks & Expeditions
Many of our clients have had the dream of ascending a 6000m plus Himalayan peak. We have made it happen. The most popular climbs for beginners are Mera and Island Peak both are lodge based treks but requiring camping whilst on the mountain. We provide quality expedition equipment and you can hire the technical personal gear (climbing boots, ice axe, crampons, harness etc) from us to ensure you are ready and equipped for your first Himalayan expedition.
For those with previous Himalayan experience and are looking for their next expedition contact us to discuss the various options in Nepal.
Customise Your Trip
All our Lodge Treks are flexible enough to allow you to customise your holiday. On each of our core itineraries Additional services are covered in each trip page. You can upgrade hotels, transport, book pre and post accommodation and addtional sightseeing.
Private Departure or Group Trek?
Many of our clients like to travel with friends and family, with an average group size of four. This allows for greater flexibility and interaction with local communities and ensures minimal impact on the Himalayan environment. We recommend a maximum group size of eight and a minimum of two for all our adventures. You can start on any day through the trekking season.
All our trips also have set departure dates operating during the best months of the trekking season for those looking to join a group of like minded adventurers.
Pre Departure Dossier
After making your reservation we will provide you with a comprehensive Pre Departure Dossier so you can fully prepare for your trip. Details include visa information, what clothing and footwear you require, getting fit for your trek, tipping, money exchange, medical matters, travel insurance and all other information related to your specific trip.
Responsible Tourism
We practice a code of responsible tourism from the office to the field that is our guiding principle for how we operate our Himalayan programs.
The Himalaya is a fragile environment and we take considerable steps to ensure we trek in a sensitive and positive manner. We employ local leaders and ensure our trekking staff are properly trained, equipped to the highest standards, and are paid a fair wage for the work they do.
In the Everest and Annapurna regions we have worked for many years with the Nepalese lodge owners providing a reliable source of income to the local families and villagers. Regular training ensures the lodges are safe and environmentally sound, We use gas or kerosene stoves for cooking in the lodges to help alleviate deforestation.