Annapurna Lakes & Glaciers
The Annapurna region still has stunning high altitude valleys and ridges where very few trekkers have gone before. This exploratory camping trek, around the remote glaciers of Annapurna South, visits high alpine yak pastures, holy lakes amid the most beautiful scenery of the region. There are great views of Annapurna (8091m), Dhaulagiri (8167m) and the fabled fish tail peak of Machhapuchhare (6993m). This is a stunning but demanding exploratory journey well off the beaten track.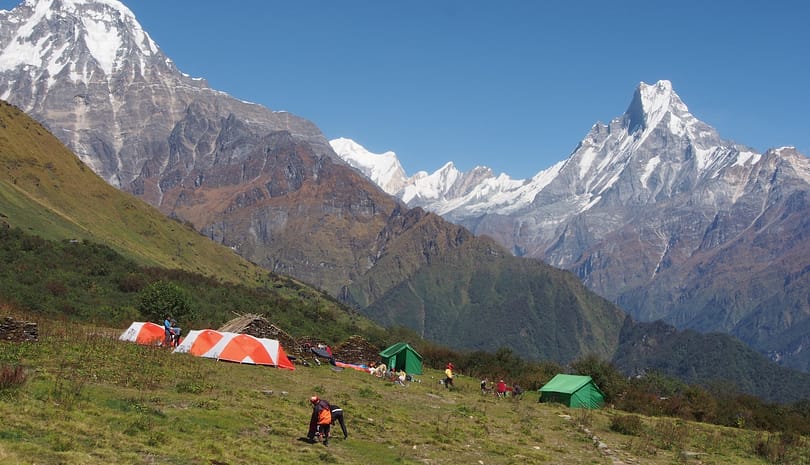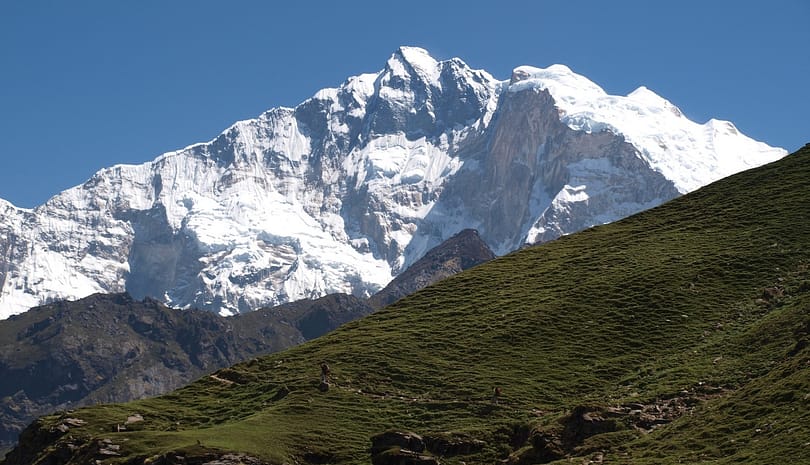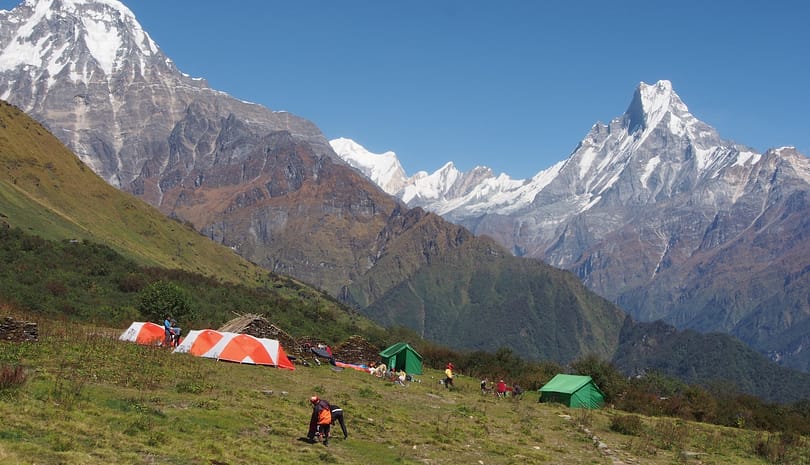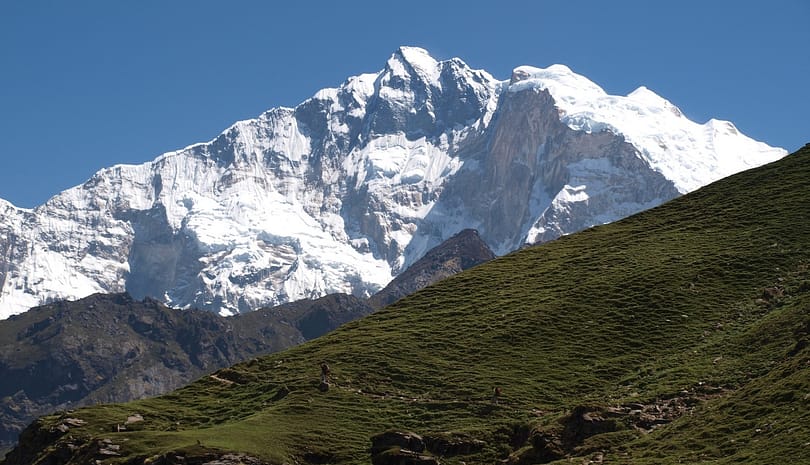 Itinerary
Day 1 - KATHMANDU (1360m)
Kathmandu, the incredibly diverse capital of Nepal is a fascinating blend of centuries old Hindu and Buddhist shrines, traditional architecture and a city embracing the 21 century. Upon arrival, your leader will transfer you to your hotel from the airport. Your hotel is in the heart of the city close to Thamel, a popular choice with tourists, with colourful handicraft stalls, trekking gear shops and excellent restaurants. In the evening, after your trek briefing, you have the option of going out for a group dinner with your trek leader.
Day 2 - KATHMANDU (1360m)
Many of our trekkers undertaking our Explorer adventures have visited Kathmandu before. So today is a free day to relax after your flight and prepare for the trip ahead. For those looking for sightseeing suggestions your leader will be on hand to help out and organise any side trips you may wish to undertake. In the late afternoon you will be issued with your trek pack and departure information for the next morning.
Meals included: Breakfast
Day 3 - UPPER GHANDRUK (1950m)
Flight: 25 mins. Driving: 3 hours. Trekking: 2 hours
The flight to Pokhara takes about 25 minutes and there are spectacular views of the main Himalayan chain to the north. Upon arrival you are transferred by private vehicles to Naya Phul and then by 4WD to ascend through the terraced hillsides high above the Modi Khola Valley. There are super views of the fishtail peak, Machhapuchhare, and Annapurna South along the way and after arriving at Kimche (1630m) you will take lunch. In the afternoon you follow a well-defined, path that contours its way through fields of wheat and millet to the village of Ghandruk. Our lodge is located above the main village in a quiet location, where we enjoy fine mountain views, in particular Annapurna South (7237m), Machhapuchhare (6993m) and Gangapurna (7455m).
Meals included: Breakfast, Lunch and Dinner
Day 4 - TADAPANI (2650m)
Trekking: 4 hours
you have an easier walk today and leave the terraced hillsides and the village of Ghandruk behind to enter oak and rhododendron forest. This is a particularly beautiful part of the trek, as our trail crosses over streams and passes small waterfalls under the canopy of the forest. There are no villages on the trail, but there are a few teahouses at Baisi Kharkha providing welcome drinks and a place to rest. There are fine views of Annapurna II (7937m), Annapurna III (7555m), Annapurna IV (7525m), Annapurna South (7237m), Machhapuchhare (6993m) and Lamjung Himal (6931m) along the way and we will reach our overnight halt at Tadapani in time for lunch. The location is the perfect setting for sunset and sunrise views.
Meals included: Breakfast, Lunch and Dinner
Day 5 - BAYELI KHARKA (3450m)
Trekking: 6 hours
Today you leave the main trail that leads to Ghorepani and instead follow a rarely used trail to walk, initially, through dense rhododendron forest that leads to open ground used by local villagers for grazing pastures. The climb is gradual and we soon emerge above the tree line to superb views of the Annapurna range. As there are no settlements on the days walk and you take a packed lunch to enjoy on the way. In the afternoon, you continue to climb gradually though open countryside to reach a small pass, where the trail descends through shrub rhododendron to an open clearing known as Bayeli Kharka and your lodge. From the lodge there are great views of Dhaulagiri Himal at this peaceful and tranquil location.
Meals included: Breakfast, Lunch and Dinner
Day 6 - THULO KHARKA (3740m)
Trekking: 5 hours
Today you leave the main trail that leads to Kopra Ridge and instead follow a rarely used trail on the skyline ridge with great views of Dhaulagiri and the Annapurna range. you pass through, shrub rhododendron and on to open ground used by local villagers for grazing pastures. The climb is gradual and you soon emerge above the tree line to follow a small track below the cliffs to emerge on a remote pass with superb views of the Dhaulagiri range to the west. The descent from the pass leads to a small lake before contouring through alpine terrain to your camp at the summer pastures of Thulo Kharka
Meals included: Breakfast, Lunch and Dinner
Day 7 - KHAIRE KHOLA (4200m)
Trekking: 3 hours
A short day to aid acclimatization, From camp you will ascend gradually to reach the stone huts built to shelter pilgrims who attend religious ceremonies at the Kaire holy lake. In the monsoon shepherds move large flocks of sheep into this area to graze on the grassy hillsides. This is a hauntingly beautiful region with the huge peaks of Annapurna South and Fang towering above the campsite. We camp in the valley and the afternoon is free to relax or explore the area.
Meals included: Breakfast, Lunch and Dinner
Day 8 - KHAIRE KHOLA (4200m)
Trekking: 5 hours
To further help with acclimatisation you will remain at Kaire Khola for another day and night. After breakfast you follow a well defined trail up a stone staircase to Pautarko Kaire. This lake is the site of the Badau Purnima Festival, held annually in August and September. Villagers from the surrounding area converge here to pray to Lord Shiva, bathe in the icy-cold waters of the lake and offer sacrifices of sheep. Although not too far from the camp, the walk to this glacial lake will be tiring due to the altitude. Ascending the hill behind the lake is also recommended, as it allows for superb views of Annapurna I. In the afternoon you will retrace your steps back to the camp.
Meals included: Breakfast, Lunch and Dinner
Day 9 - CELLI KHARKA (4850m)
Trekking: 5 hours
From today the trek heads into true wilderness only occasionally visited by local shepherds. Apart from our earlier exploratory journeys, as far as we know, no other trekkers will have visited this region. The climb out of Tiboche basin looks virtually impossible from the camp; however, a small trail, marked by stone cairns and prayer flags, winds its way implausibly to the top, where a majestic panorama will greet you. This high altitude plateau affords beautiful views of the fishtail peak of Machhapuchhare and Annapurna South. From the saddle you will traverse across the hillside to camp near a small stream and lake at Celli Kharka.
Meals included: Breakfast, Lunch and Dinner
Days 10 & 11 - HIDDEN LAKE (4250m)
Trekking: 5 hours
Today will be a highlight of the trek, as you reach a rarely visited lake set among jagged, rocky spires. The scenery is truly awe-inspiring and is known only to a handful of shepherds and hunters. When researching this area, it took many days to locate the exact position of this lake. Some villagers knew of the area, but had never visited it and this led to many conflicting stories as to where we should look for it. You will camp a short distance from the lake itself and enjoy the rest of the day exploring this remote place where you will undoubtedly find some of the most magnificent scenery in all of Nepal.
Meals included: Breakfast, Lunch and Dinner
Day 12 - ANNAPURNA SOUTH BASE CAMP (3400m)
Trekking: approx 5 hours
From the lake you will gradually climb up to a small pass that leads to a steep descent to Annapurna South Base Camp. The scene is breathtaking, with tumbling glaciers and huge moraine walls. You will set up camp close to Annapurna South Base Camp in time for lunch and in the afternoon you will have a chance to head up towards the main glacier of this magnificent peak.
Meals included: Breakfast, Lunch and Dinner
Day 13 - BHAISE KHARKA (3120m)
Trekking: 4 hours
In the morning there is a last chance for spectacular photographs before you follow the Kymrong Khola down a narrow gorge and out of this small sanctuary. The climb out of the valley is fairly steep but once the rim is gained, your return route to Pokhara comes into view. A steep but short descent then leads to camp at Baisi Kharkha where you enjoy spectacular views of Annapurna South and the fishtail peak of Machhapuchhare.
Meals included: Breakfast, Lunch and Dinner
Day 14 - CHHOMRONG (2170m)
Trekking: 4 hours
In the morning you will bear east and follow a contouring trail that then gradually descends to Chhomrong through beautiful forest of rhododendron, oak and bamboo. After spending nearly a week in the wilderness where you are unlikely to see any other trekkers, you will now join the main trail to Annapurna Sanctuary and spend the night in one of the fine lodges in the village.
Meals included: Breakfast, Lunch and Dinner
Day 15 - POKHARA (850m)
Trekking: 6 hours, Driving 2 hours
This morning you will descend into Modi Khola Valley and to the hot springs at Jhinudanda. The return route then follows the river past a small cluster of lodges at New Bridge before a very picturesque trail takes you to Kalchane, then Kilyu and then Shyauli where you enjoy lunch. In the afternoon it is a short walk to Birethanti, on the banks of the Modi Khola River, where you drive back to Pokhara arriving mid afternoon. Pokhara has an interesting old area as well as an elaborate Hindu temple and a Buddhist monastery. The lakeside area has great shopping and Internet cafés. In the evening there is the option to dine out at one of the many lakeside restaurants.
Meals included: Breakfast and Lunch
Day 16 - KATHMANDU (1360m)
Flight: 25mins
After breakfast you will be transferred back to the airport for your flight to Kathmandu. On arrival in Kathmandu you will be met and transferred back to the Shangri La Hotel. The rest of the day is free for souvenir shopping or further sightseeing.
Meals included: Breakfast
Day 17 - DEPART KATHMANDU (1360m)
Your trip will end today after breakfast and a departure transfer to the airport is included.
Meals included: Breakfast
Dates and Price
| Dates | Price | Single Sup | Status | Book/Enquire |
| --- | --- | --- | --- | --- |
| - | On Request | Available | Any Date | Book Now |
If the trip dates don't match your available dates we can run a private departure for just your friends or family. Just fill up this form and we can discuss the options
Price Includes
2 nights accommodation in Kathmandu at the Shangri La Hotel on
BB basis
1 nights accommodation in Pokhara on BB basis
13 Lodge and Tent accommodation on trek with all meals Twin Share
Kit bag, Down sleeping bag  with liner and high altitude Down jacket for use on trek
Experienced English speaking local leader trained in Wilderness
First Aid
Porter clothing, boots and insurance
International Airport Arrival & Departure Transfers
Domestic Airport Transfers
All Domestic Transfers in a private Vehicle as per Itinerary
Medical Kit, Portable Altitude Chamber and Medical Oxygen
Trekking and national park permits
Transfer in a Private Vehicle to trek start point
Transfer in a Private Vehicle from trek end point
Return Flight Kathmandu to Pokhara
Pre departure Trek Dossier
Trekking map
Price Excludes
International flights
Nepal visa
Travel insurance
Lunches and dinners in Kathmandu and Pokhara where not indicated
Items of a personal nature, drinks, snacks, laundry,etc.
Tipping
Information