Island Peak lies to the south of Mount Everest and is one of the most popular and achievable trekking peaks. The approach trek follows the Dudh Kosi Valley to Namche Bazaar  and then on the main trail to Everest Base Camp, all of which will aid acclimatisation.You ascend Kala Pathar for great close-up views of Everest and surrounding peaks. Now well acclimatised, you descend to Imja Valley and on to Chukkung, to make our attempt on Island Peak. Though technically harder than Mera Peak, this expedition is well within the reach of those seeking their first Himalayan summit.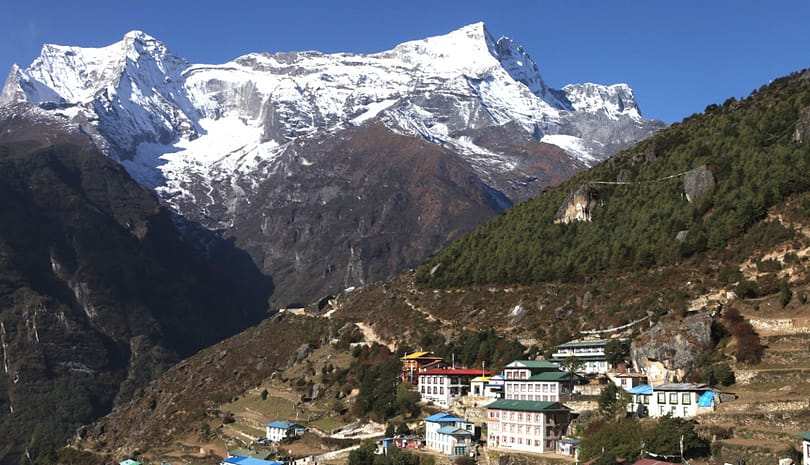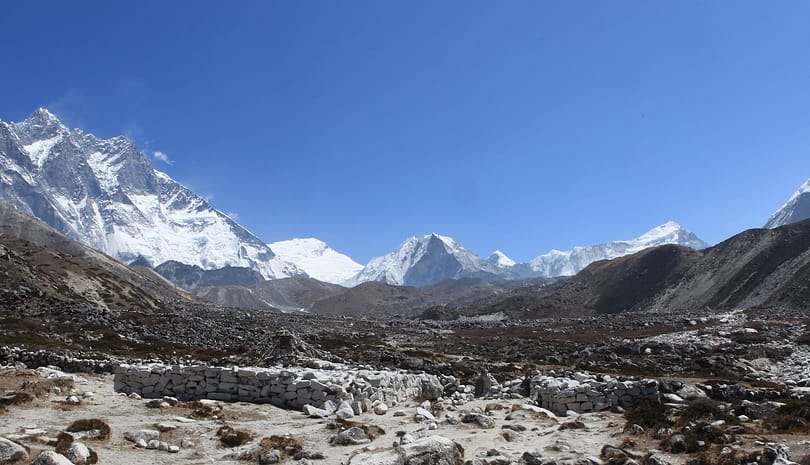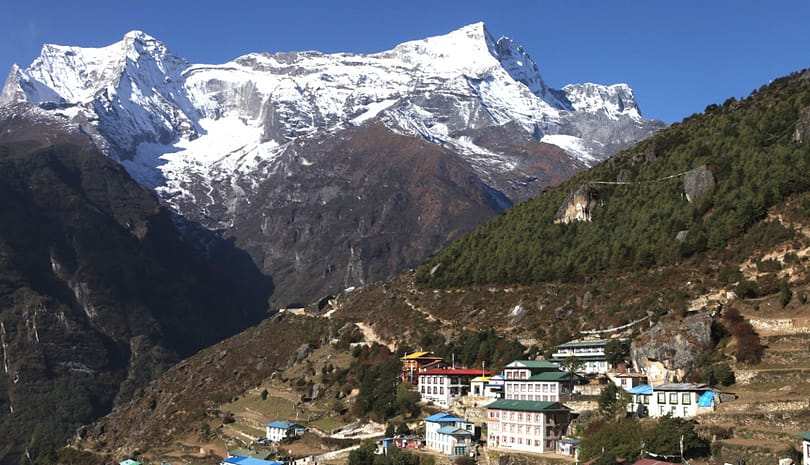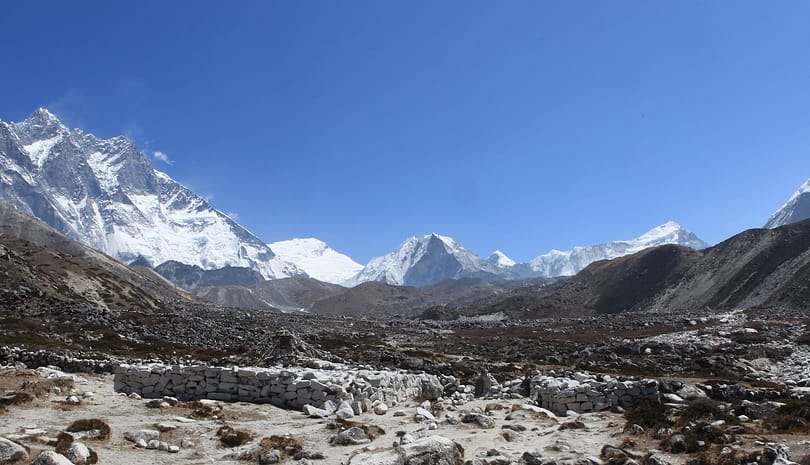 Itinerary
Day 1 – KATHMANDU (1360m)
Kathmandu, the incredibly diverse capital of Nepal is a fascinating blend of centuries old Hindu and Buddhist shrines, traditional architecture and a city embracing the 21 century. Upon arrival, your leader will transfer you to your hotel from the airport. Your hotel is in the heart of the city close to Thamel, a popular choice with tourists, with colourful handicraft stalls, trekking gear shops and excellent restaurants. In the evening, after your trek briefing, you have the option of going out for a group dinner with your trek leader.
Day 2 - PHAKDING (2650M)
Trekking: 3 hours
The early morning flight from Kathmandu to Lukla (2830m) is spectacular with sensational views of the Himalayan range. The airstrip is the gateway to the Everest region and was built by Sir Edmund Hillary and the Sherpas in the mid-sixties From Lukla you begin trekking and descend towards the Dudh Kosi River where you join the main trading trail to Namche Bazaar, at Chaunrikharka (2720m). The walking is delightfully easy and after passing through the small village of Ghat (2550m), you cross the river to our lodge at Phakding (2650m) and our overnight stop.
Meals included: Breakfast, Lunch and Dinner
Day 3 -NAMCHE BAZAAR (3440m)
Trekking: 7 hours
From Phakding you cross the river and head up the valley, following porters from the south that are ferrying supplies to Namche Bazaar. The trail keeps close to the river valley and is lined with blue pine and rhododendron forest that is very spectacular in the spring months, when the flowers are in bloom. You cross the Dudh Kosi River at Benkar, where there are tantalising glimpses of the snow-capped peaks of Kusum Kanguru (6369m) and Thamserku (6623m). From here it is only a short walk to Monjo (2835m), where we arrive in time for lunch. In the afternoon the walking is a little tougher and includes the steep ascent to Namche Bazaar. From Monjo it is a short walk to the entrance of the national park, before we cross the Dudh Kosi River to Jorsale (2805m). The trek continues upstream on generally flat terrain, crossing back to the right bank to the confluence of the Bhote Kosi and Dudh Kosi Rivers, where you start the steep climb to Namche Bazaar. After crossing a large and stable suspension bridge high above the river, you slowly ascend at a steady pace. There are some fantastic photographic opportunities as the peaks of Everest, Lhotse, Nuptse and Taweche (6542m) come into view for the first time.
Meals included: Breakfast, Lunch and Dinner
Day 4 - NAMCHE BAZAAR (3440m)
Acclimatization day
To aid acclimatisation your guide will organise a morning walk towards the village of Thame. This trail is part of the old trading link with Tibet following the valley through small Sherpa settlements. Depending on how you feel lunch maybe taken in a small local restaurant. After returning to Namche we do suggust you take the opportunity to see the sunset views from the National Park Headquarters above the village. The view is stunning.
Meals included: Breakfast, Lunch and Dinner
Day 5 - THYANGBOCHE (3870M)
Trekking: 5 hours
In the morning you climb above the village and contour high above the valley. You will be able to see the monastery at Thyangboche on a small ridge far below the summit of Everest enroute to Shanasa where we take our first tea break. During the morning walk you should keep an eye open for the beautiful Danphe Pheasant and Himalayan Thar At Trashinga the trail drops steeply to the Dudh Kosi at Phunkitenga (3250m), where you take lunch. In the afternoon you ascend, steeply at first, through pine, fir, black juniper and rhododendron forest to Thyangboche. At Thyangboche you will visit the monastery and also enjoy super views of Everest, Kantega and Ama Dablam.
Meals included: Breakfast, Lunch and Dinner
Day 6 - PANGBOCHE (3895m)
Trekking 3 hours
From Thyangboche, you descend through forest of birch, fir, juniper and rhododendron, to the nunnery at Deboche. Keep an eye open for Blood and Danphe Pheasant, Musk Deer and, high on the steep slopes of the valley, the Himalayan Thar. You cross the Imja Khola and gradually ascend to the village of Pangboche where the peak of Ama Dablam dominates the skyline. You will take lunch here and view the beautiful monastery that once housed the legendary Yeti scalp.
Meals included: Breakfast, Lunch and Dinner
Day 7 - DINGBOCHE (4360m)
Trekking: 6 hours
From Phortse the trail ascends gradually, high above the Imja Khola valley, with views of the monastery at Thyangboche below. Do look out for the Himalayan Thar, a large mountain goat, that is often seem on this part of the trek. The mornings walk traverses the hillside before a short descent leads directly into the village of Pangboche where you re join the main trail to Everest. Here you enjoy lunch with the peak of Ama Dablam towering above the skyline. In the afternoon you ascend gradually, passing through the small settlement at Orsho before leaving the main trail to head into the Imja Valley and your lodge at Dingboche. Everest cannot be seen from here but there are spectacular views of Lhotse, Island Peak and Ama Dablam before you. The walking is quite tiring and to aid our acclimatisation you will enjoy a further rest day in Dingboche.
Meals included: Breakfast, Lunch and Dinner
Day 8 - DINGBOCHE (4360M)
Rest and acclimatization
Dingboche was initially a summer settlement for the Sherpas where they grew barley and potatoes and where yaks were brought to graze on the valley pastures. Today it is now a popular stopover for those enroute to Everest Base Camp. Today you can enjoy a short excursion up the valley towards Chukkung where there are beautiful views of the towering south face of Lhotse and Island Peak in the centre of the valley. Alternatively, you may wish to climb to the hill above your lodge for views of the fifth-highest mountain in the world, Makalu (8481m).
Meals included: Breakfast, Lunch and Dinner
Day 9 - LOBUCHE (4930M)
Trekking: 4 hours
In the morning you ascend the small ridge behind the village and gradually ascend above the village of Pheriche with the peaks of Taweche and Cholatse seen across the valley. You cross the Khumbu Khola at Dughla (4620m), where you take a lunch and in the afternoon a steady climb up the moraines of the Khumbu Glacier leads to the memorial cairns, of the Sherpas and climbers who have died on various Everest expeditions. From here the views are marvelous with Pumori (7145m), Lingtren (6697m), Khumbutse (6623m), and Changtse (7550m) seen at the head of the valley. It is only a short walk up the valley from here to Lobuche and your overnight accommodation.
Meals included: Breakfast, Lunch and Dinner
Day 10 - EVEREST BASE CAMP (5345m) & GORAK SHEP (5150m)
Trekking: 8 hours
You leave after breakfast and walk slowly up the valley by the side of the Khumbu Glacier to the moraines of Changri Nup Glacier where it is necessary to make a series of small ascents and descents to the sandy flats of Gorak Shep (5150m). The lodge is reached in around three hours from Lobuje and you rest and take and early lunch before setting off for the round trip to Everest Base Camp. The walk there and back will take around five hours. It is a great achievement to reach Base Camp and you will spend time here absorbing the atmosphere and taking photographs. If trekking during the climbing period of March to May, you will see the expedition tents that are pitched on the glacier below the dangerous Everest Ice Fall. You return to the lodge and will reach there in the latter part of the afternoon.
Meals included: Breakfast, Lunch and Dinner
Day 11 - KALA PATHAR (5640m) & DINGBOCHE (4360M)
Trekking 8 hours
From Base Camp you do not get the 'picture postcard' views of Mount Everest, so there is the opportunity to get up early in the morning for the climb to Kala Pathar. (5643m) to enjoy the sensational panoramic views of Pumori, Nuptse, Changtse, Ama Dablam, and Everest. It is a tough walk because of the altitude, but emotionally rewarding and you can spend as long as you wish enjoying this special moment. The descent back down to Gorak Shep is undertaken a lot quicker than the ascent and after a welcome hot drink you retrace your steps back to Lobuche for lunch. After lunch you descend to cross the Khumbu Khola and head down the valley below to Dingboche, where you stop for the night.
Meals included: Breakfast, Lunch and Dinner
Day 12 - ISLAND PEAK BASE CAMP (5090M)
Trekking: 5 hours
After breakfast you follow the Imja valley to arrive in Chhukung for an early lunch and in the afternoon we follow the moraines that flow from Lhotse (8501m) towards the sand flats at Pareshaya Gyab. It is only a short distance from here to base camp which we will reach in the mid-afternoon.
Meals included: Breakfast, Lunch and Dinner
Days 13 & 14 - ISLAND PEAK ASCENT
We have allowed three days to climb Island Peak though we will probably not require more than two days if weather conditions are fine. The strategy for the climb will be decided by the leader at the time, taking into account the group's acclimatisation, the weather, snow conditions and other factors. Generally we will rest in the morning and have a familarization of the gear and uasge of Crampons, Ropes and Ice Axes. We have a very early start for the climb the next morning. We ascend from Base Camp to High Camp (5700m) a steep, two-hour climb up grassy slopes on a well defined trail. The summit push may take between six to eight hours depending on snow and weather conditions. We will fix a rope on the summit headwall for safety on both the ascent and descent. Although it is not a difficult technical climb, the snow slopes are crevassed, the headwall is reasonably steep and a head for heights is useful. To gain the summit, willpower and stamina are required but the incredible feeling of achievement atop this 6000-metre giant will remain a lifetime memory. The view from the summit is utterly fantastic! Ama Dablam, Lhotse, Makalu and Baruntse are the dominant giants rising above a sea of 'lesser' peaks. Given good conditions we should be able to descend back to Chhukhung from our summit attempt.
Meals Included: 2 Breakfasts, 2 Lunches, 2 Dinners
Day 15 - ISLAND PEAK/ DINGBOCHE (4360M)
Contingency day. We have allocated another  for a summit attempt in case of poor conditions. Otherwise you enjoy a short descent back to to Dingboche.
Meals included: Breakfast, Lunch and Dinner
Day 16 - NAMCHE BAZAAR (3440m)
Trekking: 6 hours
You make a leisurely start from Dingboche descending down the valley with the peaks of Ama Dablam and Taweche looming majestically above the trail. You quickly reach the settlement of Orsho and then Shomare for a welcome tea break. Do take the opportunity to turn around and enjoy the views of Everest as you descend. After passing through Pangboche you cross the Imja River to ascend through rhododendron and birch forest to Thyangboche where you visit the monastery and take lunch. In the afternoon it is a steep descent through forest of juniper, rhododendron and fir to Phunkitenga where you cross the Dudh Kosi river and ascend to the small village of Trashinga. From here the walking becomes easier as the trail contours high above the valley through to Shanasa and on to your overnight halt at Namche Bazaar.
Meals included: Breakfast, Lunch and Dinner
Day 17 - PHAKDING (2650M)
Trekking: 4 hours
There is a final opportunity to visit the shops in the bazaar and enjoy an apple pie and coffee before you descend steeply down to the large suspension bridge over the Dudh Kosi River. Back at lower altitudes, fit and well acclimatised the walking is now easy as you follow the trail through Jorsale and back to Monjo, where we take lunch. In the afternoon we take a liesurely stroll down the valley through Benkar and back to Phakding.
Meals included: Breakfast, Lunch and Dinner
Day 18 - LUKLA (2800M)
Trekking: 3 hours
It is only a few hours walking to reach the airstrip at Lukla. The first part of the walk follows the valley before making a gradual ascent passing through Chaunrikharka to our hotel located close to the airport. In the evening it is time to celebrate your journey with your crew, a slap up meal and few drinks with the crew.
Meals included: Breakfast, Lunch and Dinner
Day 19 - FLY LUKLA - KATHMANDU (1360m)
Flight: 45 Minutes
The flight to Kathmandu is scheduled to leave early in the morning. Weather permitting, you may have great mountain views as you fly back parallel to the Himalayan range. On arrival in Kathmandu you are met and transferred back to your hotel with the rest of the day free to do souvenir shopping or further sightseeing.
Meals included: Breakfast
Day 20 - KATHMANDU (1360m)
We have allocated a full day in Kathmandu for you to relax and explore after your trek in the Everest region. Please ask your leader for sightseeing options. This also serves as a contingency day in case of delays in Lukla due to inclement weather. There is an option to see the heritage city of Bhaktapur or Patan.
Meals Included: Breakfast
Day 21 - DEPART KATHMANDU (1360m)
Your trip ends today after breakfast. Your leader will be on hand to advise and assist with your onward travel arrangements. A departure transfer to the airport is included.
Meals Included: 1 Breakfast
Dates and Price
| Dates | Price | Single Sup | Status | Book/Enquire |
| --- | --- | --- | --- | --- |
| - | On Request | Available | Any Date | Book Now |
If the trip dates don't match your available dates we can run a private departure for just your friends or family. Just fill up this form and we can discuss the options
Price Includes
3 nights accommodation in a 5 Star Hotel in Kathmandu on BB basis
14 nights lodge accommodation only on trek (Twin Share)
All Meals on the trek
3 nights at IP Base Camp in Tents Twin Share
Ropes, Ice Axes, Carabiners, Helmets, Boots for Climbing Island Peak
Experienced English speaking local leader
Experienced Climbing Sherpa
Porter clothing, boots and insurance
International Airport Arrival & Departure Transfers
Domestic Airport Transfers
All Domestic Transfers in a private Vehicle as per Itinerary
Medical Kit, Portable Altitude Chamber and Medical Oxygen
Trekking and national park permits
Climbing Permits
Flights Kathmandu – Lukla – Kathmandu
Pre departure Trek Dossier
Trekking map
Price Excludes
International flights
Nepal visa
Travel insurance
Lunches and dinners in Kathmandu where not indicated
Items of a personal nature, drinks, snacks, laundry,etc.
Tipping
Information