Away from the crowds. This camping trek explores the monasteries, glacial lakes and alpine ridges of Piké and Solu Khumbu. At the Dudh Kund lake there are spectacular close up views of Numbur Himal, Khatang and Karyolung peaks. You will see the big peaks and from the Piké ridge line the remarkable panorama spans from Kanchenjunga,to Makalu, Everest and surprisingly, as far as Annapurna and Dhaulagiri . Few trek the high country here and there is still opportunities to discover new trails.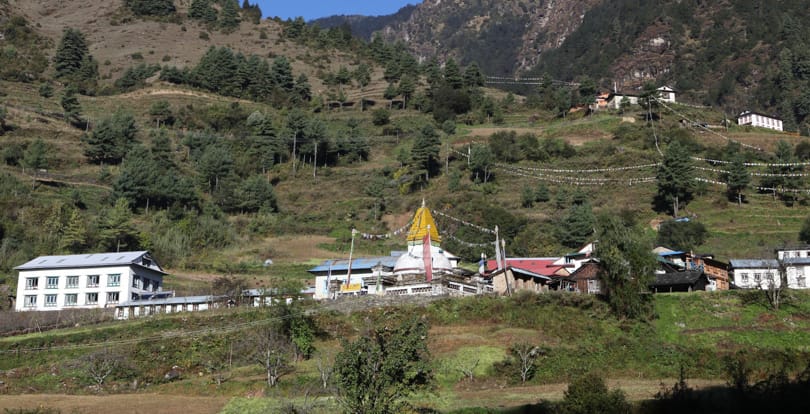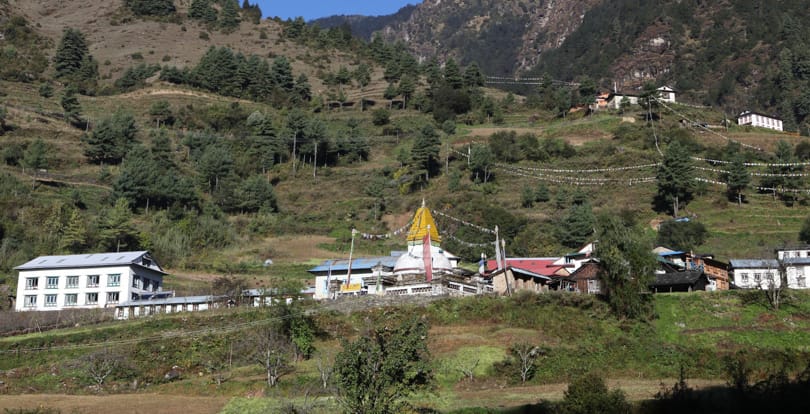 Itinerary
Day 1 – KATHMANDU (1360m)
Kathmandu, the incredibly diverse capital of Nepal is a fascinating blend of centuries old Hindu and Buddhist shrines, traditional architecture and a city embracing the 21 century. Upon arrival, your leader will transfer you to your hotel from the airport. Your hotel is in the heart of the city close to Thamel, a popular choice with tourists, with colourful handicraft stalls, trekking gear shops and excellent restaurants. In the evening, after your trek briefing, you have the option of going out for a group dinner with your trek leader.
Day 2 – KATHMANDU (1360m)
Many of our trekkers undertaking our Explorer adventures have visited Kathmandu before. So today is a free day to relax after your flight and prepare for the trip ahead. For those looking for sightseeing suggestions your leader will be on hand to help out and organise any side trips you may wish to undertake. In the late afternoon you will be issued with your trek pack and departure information for the next morning.
Meals included: Breakfast
Day 3 – FLY KATHMANDU TO PHAPLU (2470m)
Flight time: 35mins
In the early morning we take the spectacular flight from Kathmandu to Phaplu (2827m), flying parallel to giant Himalayan Mountains bordering Nepal and China (Tibet). The flight time is about 35 minutes and we land at an airstrip built by Sir Edmund Hillary and the Sherpas in the mid-1960s. After landing we check in to our hotel and after lunch have time to explore the village while our Sherpa crew sort our trekking equipment ready for the morning departure.
Meals included: Breakfast, Lunch & Dinner
Day 4 – JAPRE (2840m)
Trekking: 4 hours
After a breakfast we make a liesurely start and board our jeeps for the one and a half hour drive to the trek start. The road has recently been constructed and is now a direct link to Kathmandu. You pass through the nearby district headquarters at Sallari and follow a winding road through beautiful countryside to the village of Patale and onto nearby Dhap (2925m) where our trekking crew will be waiting at the trek start. At Dhap we have views of Numbur (6958m), Khatang (6852m) and Karyolung (6530m). The glaciers that flow from these peaks form the holy glacial lake of Dudh Kund our destination on this exciting trek. The trail follows a ridgeline initially gradually descending through forest of Rhododendron, Daphne with fine views of the mountains to the north. We reach the village of Sigane for our first tea stop and then continue ascending gradually to the village of Japre (2840m) where we arrive for lunch. We camp by the monastery. The afternoon is free to explore or simly relax and take in the wonderful scenery.
Meals included: Breakfast, Lunch & Dinner
Day 5 – LAAMU MANI (3370m)
Trekking: 4 hours
Today you continue along the ridge line moving away from permanent habitation. Again we have fine views of Pike Peak and Numbur Himal. The trail initially follows through a forested trail until our first tea stop at the village of Bhulbule (3230m) walking is a little tougher today due to the altitude but from here the trail continues through forest to the grazing pastures of Lamuje (3340m) where the damaged chorten and mani walls remind us of the devastating earthquakes here in April/May 2015. You are now high on the ridge line and the forest makes way for open alpine scenery with superb views to the lowlands in the south and our first objective, Pikey Peak (4065m). You enjoy a final tea stop at the lone house at Chamje (3350m) before continuing to contour along the open ridge line to our camp site a Laamu Mani. Laamu means – long and, mani are the carved religious stones built into form a wall. We camp on the open ridge and arrive in time for lunch. Again a shorter day to aid acclimatisation.
Meals included: Breakfast, Lunch & Dinner
Day 6 – PIKÉ PEAK BASE CAMP (3660m)
Trekking: 3 hours
Another shorter day as we continue to adapt to the altitude. From camp there is a short and steep climb, leaving the rhododendron bushes behind, to continue trekking high 'above the clouds' on the sky line ridge. You continue to contour gaining little altitude to reach the cheese factory where we stop for our first 'tea stop' and check to see in there is cheese available. Whilst called Yak Cheese, a Yak is the male and the cheese is actually from the Nak (female). You continue to climb gradually and Pike Peak is seen above and to the right. After further 15 mins we arrive at a camp site where the buildings have been damaged by the earthquake so we continue to the ridge line where a short descent leads to our campsite among rhododenron. Again we arrive in time for lunch. The views from camp are very impressive as you look towards the peaks of the Number Himal range. It itakes around one hour from camp to slowly reach the top of Pike Peak. If the weather is fine we will ascend the hill in the late afternoon for stunning sunset views.
Meals included: Breakfast, Lunch & Dinner
Day 7 – PIKÉ PEAK (4060m) & JUNBESI (2710m)
Trekking: 7 hours
In the morning you will leave early for the fairly short climb to the top of Pike Peak (4065m). In clear conditions you will experience a truly spectacular 360° panorama, extending hundreds of kilometres. Directly in front are the peaks of Numbur, Kayolung and Khatang and to the right of these Everest (8848m) is seen as the high, rocky triangular peak. Looking to the far east Kanchenjunga is the last major peak seen on the skyline and as you pan from right to left the view includes seven 8,000-metre giants: Makalu, Lhotse, Everest, Manaslu, Annapurna and Dhaulagiri. This is probably the best and most spectacular view point in Nepal. There will be plenty of time for photographs before you descend off the hiill and start the trek to Junbesi (2710m) The descent off Piké is reasonably steep and heads through rhododendron and oak to a saddle on the ridgeline and our first tea break teahouses at Piké Kop at 3,450 metres. Trekking time about forty five minutes. Nepal is known for it's ups and downs so after a welcome break you ascend steeply on the ridge line that heads towards the Lamjura Pass. You take a lunch along the way and may see, at close hand, planes heading to Lukla skimming low over the ridge. In the afternoon you continue to climb for a short while before descending through forest to the village of Taktor, where you join the main trail followed by Hillary and Tenzing on their way to Everest in 1953. A short while later you descend the stone steps that lead to the large village of Junbesi (2710m) where you arrive mid afternoon. You spend the night in a hotel and enjoy a hot shower and enjoy the welcome 'luxury' of a bed for the night.
Meals included: Breakfast, Lunch & Dinner
Day 8 – PHUNGMOCHE (3060m)
Trekking: 4 hours
You make an liesurely start today. From the village you follow the Solu Khola north past several long mani walls and a stupa, reaching the settlement at Ukpa (2760m) where you leave the river and follow the trail towards the large Tibetan monastery at Thupten Chholing (2950m) After looking around the monastery you ascend to Phungmoche (3065m) where you will camp for the day.
Meals included: Breakfast, Lunch & Dinner
Day 9 – SHENGEEPHUK (3940m)
Trekking: 5 hours
In the morning you climb steadily on a zig sagging trail over looking the valley below. You are now heading away from permanent habitation and for the next four days you will trek though hauntingly beautiful wilderness. The walking will be challenging but we have kept the days walking sensibly paced to deal with the altitude and trail conditions. Following a minor trail through oak and rhododendron forest and then through meadows you pass through a number of grazing pastures including Tambur Donga (3440m). This is an ancient trail and once an old trading route towards the Rolwaling Valley. You will see evidence of former settlements including mani walls and prayer stones showing a lifestyle that has disappeared forever. From here the ascent continues through forest of oak and rhododendron to open hillside and camp at Shengeephuk (3940m).
Meals included: Breakfast, Lunch & Dinner
Day 10 – SASURABENI (4020m)
Trekking: 7 hours
You start early as today's trek covers In the morning you follow the ridge and the views, all around, are superb including those of Numbur Himal. You now enter rugged forested wilderness following the Basa Khola river valley that leads to the Khare La pass. At Nagiang (3870m) you cross the river and ascend through beautiful alpine terrain ascending and descending over wild terrain before crossing the Lapcha Chaung (4250m) saddle to reach the small lake of Chaim Chau for lunch surrounded by rocky outcrops and boulder-strewn slopes. In the afternoon you ascend to the Phorai Danda ridge and from here you descend through the boulder-strewn scree fields to the meadow of Chungordhuk (4100m) that leads to the Beni Khola valley - the main stream that flows from the Numbur Glacier. From here you contour through dwarf rhododendron to join the river and camp at Sasurabeni (3970m).
Meals included: Breakfast, Lunch & Dinner
Day 11 – SASURABENI & DUDH KUND LAKE (4560m)
Trekking: 5 hours
It is a short walk yet steep walking following glacial moraine to reach Dudh kund lake in approximately two to two and a half hours. Out of respect for local religious customs it is not appropriate to camp on the lake shores. The milky-coloured waters of Dudh Kundh Lake (4,580m) are surrounded by glaciers and towering rock faces forming a spectacular natural amphitheatre. Towering above, the peaks of Numbur Himal (6959m), Khatang (6853m) and Karyolung (6511m) reach towards the sky The morning is spent exploring the area; you may visit a second, smaller, lake at Mahakhund if you have the energy. You retrace your steps back to Sasurabeni you arriving in time for lunch. The afternoon is free to relax or further explore the area.
Meals included: Breakfast, Lunch & Dinner
Day 12 – CHHULEMU (2590m)
Trekking: 5 hours
From Sasurabeni you descend down the Dudh Khola river valley on a seldom-used trail following the Kemche Danda ridgeline. The walking passes the yak and water buffalo pastures of Gai Kharkha and Thimba before entering a heavily forest that leads to the small Sherpa settlement of Chhulemu. Chhulemu is home to some of our Sherpa staff so you are assured of a warm welcome after many days in the wilderness. Time also to celebrate with a shower and perhaps a cool beer.
Meals included: Breakfast, Lunch & Dinner
Day 13 – PHAPLU (2470m)
Trekking: 2 hours Driving 1 hour
This is your last day of trekking, where it is only a short walk of gradual ascent to reach the Sherpa monastery at Trakshindo (2940m). After visiting the monastery you climb the short distance to the pass (3070m) before, depending on road conditions board private jeeps for the short drive via the village of Ringmo (2720m) to reach the town and airstrip at Phaplu arrivingin time for lunch. After checking in to your lodge the afternoon is free to wander around, relax or perhaps enjoy a hot shower! In the evening you enjoy a farewell dinner, followed by a few celebratory drinks.
Meals included: Breakfast, Lunch & Dinner
Day 14 – FLY PHAPLU to KATHMANDU (1360m)
Flight: 35 mins.
Usually the flight to Kathmandu leaves early in the morning. Weather permitting, you have exceptional mountain views as you fly parallel to the Himalayan range. On arrival in Kathmandu you are met and transferred back to your hotel with the rest of the day free to do souvenir shopping or further sightseeing. Enjoy a final evening out tonight.
Meals included: Breakfast
Day 15 – KATHMANDU (1360m)
We have allocated a full day in Kathmandu for you to relax and explore after your trek in the Everest region. This also serves as a contingency day in case of delays in Phaplu due to inclement weather. There is an option to see the heritage city of Bhaktapur or Patan. Please ask your leader for sightseeing options and arrangements.
Meals Included: Breakfast
Day 16 – DEPART KATHMANDU (1360m)
The adventure ends today after breakfast. Your leader will be on hand to advise and assist with your onward travel arrangements. A departure transfer to the airport is included.
Meals included: Breakfast
Dates and Price
| Dates | Price | Single Sup | Status | Book/Enquire |
| --- | --- | --- | --- | --- |
| - | On Request | Available | Any Date | Book Now |
If the trip dates don't match your available dates we can run a private departure for just your friends or family. Just fill up this form and we can discuss the options
Price Includes
4 nights accommodation in a 5 Star Hotel in Kathmandu on B&B basis Twin Share
11 nights lodge and tented accommodation on trek on Twin Share
All meals on the trek
Down Sleeping Bag, Fleece Inner Liner, Down Jacket & Duffel Bag for use on trek
Experienced English speaking local leader trained in Wilderness First Aid
Insured and Fully equipped porters and support crew
International Airport Arrival & Departure Transfers
Domestic Airport Transfers
All Domestic Transfers in a private Vehicle as per Itinerary
Medical Kit, Portable Altitude Chamber and Medical Oxygen
Trekking and National Park Permits
Kathmandu to Phaplu Return Flights
Hired Jeeps fron Phaplu to Trek start point
Hired Jeeps from Trakshindo to Phaplu
Pre departure trek dossier
Trekking map
Price Excludes
International flights
Nepal visa
Travel Insurance
Lunches and Dinner in Kathmandu & Pokhara
Items of a personal nature, laundry
Tipping to the crew
Information
Exceptional trip to Dudh Kund
Trekking in the Solu region and experiencing the true Sherpa Culture was a great build-up to and expeptional trek to the less traveled and remote Dudh Kund trek. The amazing views were just complemented by the great and innovative food that the team provided. Thank you Mingmar and the team making my 5th visit to the Nepal Himalaya truly unforgettable.